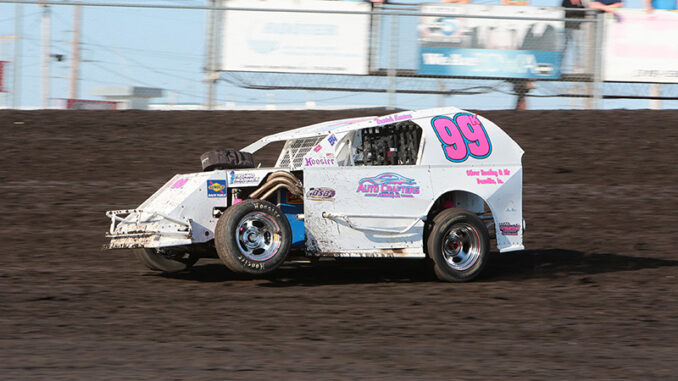 ATKINS, Iowa (Nov. 15, 2022) – Darrick Knutsen towed to 10 different tracks in six states and ended up cruising into the IMCA history book.
Knutsen became the first STARS Mod Lite driver to earn IMCA national rookie of the year honors, starting the season racing in Arizona and then Florida before concentrating on weekly events in the Midwest, closer to his Atkins, Iowa, home.
"My goal from the start of the season was to win rookie of the year and we started out pretty good," stated Knutsen, at 50 the second oldest driver to earn that award, in any division. "I focused on getting my starts in, especially at Marshalltown, and when we got rained out in Iowa I went to Kansas or Nebraska to race."
"There were a lot of nights," he added, "when I went to a track eight or nine hours by myself, then turned around and drove home after the races."
Knutsen had crewed for his younger by two minutes twin brother Erick, who had raced both an IMCA Sunoco Hobby Stock and an IMCA Sunoco Stock Car. He turned wrenches for Don Erger and logged his first competitive laps in Erger's backup micromod ride in 2016.
"I was worried about wrecking but Don told me racing was in my blood and I should drive that car like I stole it," he said. "I won for the first time in my fifth start and 10 features in all that year at Benton County Speedway."
STARS Mod Lites joined the IMCA Speedway Motors Super Nationals fueled by Casey's program last year and Knutsen qualified for the Big Dance his first night in a new car.
He made three January IMCA.TV Winter Nationals starts in Arizona, then cross countried it to Florida in February for the Sugar Bowl Winter Nationals weekend early this season.
Knutsen got one start in at favorite track Stuart Speedway, where friends and family watched him race in the Memorial Weekend show. He's tight with the Murty Race Team out of Chelsea and enjoyed the support and encouragement from Damon and Dallon throughout the season, loaning his car to Dallon for Super Nationals while on a well-deserved vacation cruise in the Mediterranean.
"We put a lot of work into this season. I was really trying for national rookie of the year," said Knutsen. "Now that I've won it, it still hasn't sunk in. That might not happen until I get to the banquet and get my eagle."
Wins, 0 – Top Fives, 4 – Starts, 36
His Crew: Girlfriend Tracy Curtis, daughters Lexi and Logan, brother Erick, Jeffrey Mason, Damon, Dallon and Dana Murty, Dawn Stokes, Tobie and Rebecca Talk, Drew Nickell, Nathan Chandler, Miranda Wieben, Josh Lowe, Brandon Leonard, Jonah Bearden and Weston Bishop.
His Sponsors: Auto Crafters, Advantage Chassis/Techno Graphics and Bishop Holdings Homes, all of Atkins; BradBuilt and Buster Pate Construction, both of Cedar Rapids; Murty Racing of Chelsea; Davis Plumbing and More of LaPorte City; Coe's Truck Service of Stuart; Oliver Heating & Air of Danville; BSB Manufacturing of Wellington, Kan.; Maxxforce Industrial Tooling of Abilene, Texas; and Edge Chassis of Delaware, Md.