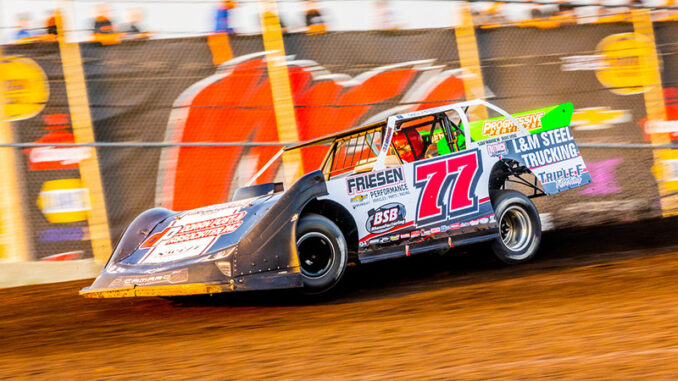 NEWMAN GROVE, Neb. (Nov. 14, 2022) – Cory Dumpert came into the 2022 season looking to add to his IMCA Sunoco Late Model legacy.
He accomplished just that, becoming the first driver from Nebraska to win the Late Model main event at the IMCA Speedway Motors Super Nationals fueled by Casey's before racing to the division's modern era record of four consecutive national championships.
"Everything we accomplished this season was pretty special. It was a lot of hard work," said Dumpert, from Newman Grove and just the fourth different driver to win Super Nationals and national championships the same season.
"We wanted to get that fourth national title but knew how hard it would be. We wanted to do as well as the points as we could without getting too wrapped up in it, then see where we were a month or so before the season ended," he continued. "And there was a lot of emotion in winning Super Nationals, especially doing it coming out of a 'B' feature and starting 11th."
Dumpert won 17 weekly events this season, along with Off Road Speedway and Nebraska State crowns.
He was the winner in eight of nine starts from early June through mid-July, moved back to the top of the national point standings and wrapped up his latest championship with wins in his last three home state starts.
Dumpert and fiancée Lindsey Roan had bought a house in Newman Grove early in the year so the season saw him race out of an unfinished garage, with fewer tools at hand and with father and crew chief Cary coming from further away to help.
"It was a trying year but we made it work," he said. "I can't give Lindsey enough credit. She did a lot of the body, maintenance and tire work during the week. She did everything I could ask for and more at the track, too."
"It meant a lot to both of us to be the first in the modern era to win four straight national championships and we're going to try to do it again next year. We'll hit the ground running."
He will run for another Super Nationals championship as well, hoping to repeat his magical run at Boone Speedway.
"I was tearing up. I couldn't believe we did it," he admitted. "Just the whole experience in victory lane, with all the people with cameras, was a lot to take in in 10 minutes."
And Lindsey knew all along that he'd be the best at Boone.
"I was sitting in the car before the race when Lindsey came up and asked me how she'd get down into the infield after I won," Dumpert said. "She had a feeling that this would be my year and she was right."
"One of the coolest things that happened this year was that she ran my car in a powder puff race on one of the nights I won at Albion," he added. "She won running laps that were only a second to a second and a half off the Late Model times that night."
"Give her a couple more nights and I might be out of a job."
Dumpert now has 65 wins in his IMCA Late Model career.
Wins, 17 – Top Fives, 26 – Starts, 31 
HIS CREW: Fiancée Lindsey Roan, parents Cary and Debbie, brother Kyle, Kevin Safranek, Adam Fowler, Evan McIntyre, Edward Pritchard, Alex Banks and Kenny Summers.
HIS SPONSORS: Ed Fowler and Triple F Roofing and Extreme Automotive, both of York; L & M Steel Trucking of Newman Grove; Outback Motorsports of Norfolk; Friesen Performance of Aurora; Safranek Racing of Merna; Trotter Fertilizer, Trotter's Tire Pro, Brevant Seed, Channel Seed and LB Thoroughly, all of Broken Bow; Doran Post and Associates Inc. of Lexington; Progressive Fertilizer of Callaway; LG Pumping LLC of Osmond; ACG Ag Consulting Group of Kearney; BSB Manufacturing of Wellington, Kan.; Golithium Batteries of Coleraine, Minn.; Swift Springs of Chino Hills, Calif.; Audie with Swartz Race Cars, Minford, Ohio; and DeKalb Hybrids.