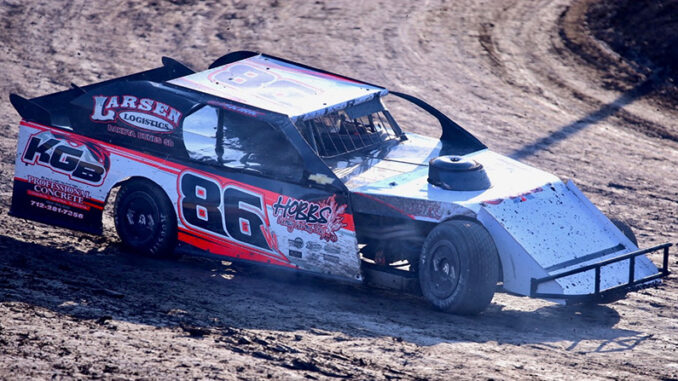 SLOAN, Iowa (Nov. 14, 2022) – His fast start to the season surprised even Willy Kirk.
The 15-year-old from Sloan, Iowa, had three wins and another eight top five finishes to show for his first 12 starts and stayed fast through the end of September in earning the Friesen Performance IMCA Northern SportMod rookie of the year award.
"We were pretty much aiming for the rookie award from the start and we raced as much as we could," said Kirk, who totaled five feature wins and 35 top five finishes, racing to Wagner Speedway and South Dakota State titles as well. "I had to learn how to drive the car and how to pass, so it was surprising to us, coming out of the gate like that."
"My dad taught me how to drive and gave me some really good setups," continued Kirk, whose father and crew chief Dirk had raced both IMCA Modifieds IMCA Late Models. "We talked every time before I got in the car and after every race. We always tried to make the car better and make changes to what the track was doing."
Kirk raced a cage kart for two years and then a winged go kart for a single season before moving to the IMCA division, and raced a 2018 GRT purchased from Jacob Hobscheidt and then converted to a Northern SportMod.
His 50 starts came at eight different tracks. Kirk was 20th in national point standings.
"I really liked being able to race with good competition and having two tracks just 30 minutes away," said Kirk, runner-up to Rusty Montagne at both Park Jefferson Speedway and at The New Raceway Park, site of his first feature win on May 8. "And without everyone in my family pitching in, we would not have had the success we did. It was pretty cool to have them at the track every night."
The Westwood High School sophomore became the second 15-year-old to win rookie of the year in the division. Cade Richards of Lincoln, Neb., did so in 2019.
"Being national rookie of the year and getting track and state championships were all highlights," he said. "Starting the season strong and having so much success stood out for us, too."
Wins, 5 – Top Fives, 35 – Starts, 50
His Crew: Parents Dirk and Jill, sister Sami and honorary uncle Bubba Matthews.
His Sponsors: DJ Kirk Farms and Frog Fab, both of Salix; Sami Sue's Snapshots of Sloan; Hobbs Family Farms of Whiting; Mike's Mini Mart of Sergeant Bluff; KGB and Professional Concrete, both of Sioux City; Larsen Logistics of Dakota Dunes, S.D.; Sign Masters of South Sioux City, Neb.; and Jacob Hobscheidt Racing and N & W Transfer, both of Plattsmouth, Neb.