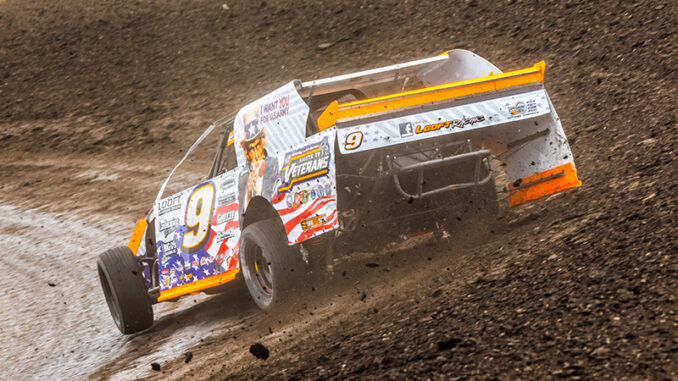 SWEA CITY, Iowa (Nov. 14, 2022) – A first-time win became the highlight of the season for one of IMCA's winningest drivers.
Matthew Looft raced to the fifth Friesen Performance IMCA Northern SportMod national championship of his career, winning a single-season best 37 features – including his career 200th – and track titles at Arlington Raceway and Kossuth County Speedway.
The career leader in all three divisional categories added another title to his lengthy list of accomplishments in 2022: Champion at the IMCA Speedway Motors Super Nationals fueled by Casey's.
"That would have to be the highlight of our season," Looft said of his Sept. 10 drive to the checkers at Boone Speedway. "It was almost unexpected because we started so far back but by the time we were 10 laps in, I knew I had a good shot of winning. The car was just so good that night."
"It was pretty unbelievable, especially because it had been four or five years since the last time we were at Super Nationals," he continued. "That pretty much made our season. It was pretty cool to win Super Nationals."
While winning for the first time at Boone, the Skyrocket Chassis hotshoe from rural Swea City, Iowa, continued to enjoy considerable success at his regular weekly tracks.
Looft won 14 times at Arlington, including his career win number 200 over the Memorial Day Weekend, taking another 10 checkers at Murray County Speedway, eight at Kossuth County, four at Clay County Fairgrounds Speedway and one at Jackson Motorplex.
"Our 200th win was pretty neat. That was our goal at the start of the season," said Looft. "We were going to do more specials but with costs we ended up staying closer to home and racing more at our local tracks, and we never worked so hard as we did before this year. Everything we did was earned. We pretty much wore ourselves out doing all we could do."
"Getting to the top is hard. Staying there is harder. We raced our tails off from late July to the end of the year and pushed really hard."
Looft finished outside the top five just once, going 54 starts without a DNF, wreck or parts failure. Wife and crew chief Brittney changed flat tires twice at Arlington and he hustled back to win both races.
"You definitely have to have some luck, especially because the competition keeps getting better," he said. "We had more help this year and good technical support from Kelly Shryock as always."
Also national champion in 2013, 2014, 2018 and last year, Looft now has 231 feature wins and 30 track titles to his Northern SportMod career credit. Jason Mallicoat is the only other driver to win Super Nationals and national championships the same year, in 2006.
He had another first-time victory to celebrate this year after winning his IMCA Sunoco Stock Car rookie season first feature on Aug. 20 at Arlington.
"I enjoy how a SportMod drives a little more. A Stock Car is more like racing Talladega," Looft explained. "It's easier to drive but it's harder to be good. You've got to be perfect in that class."
Wins, 37 – Top Fives, 53 – Starts, 54 
His Crew: Wife Brittney, sons Brayden and Brysen and daughter Brynlee, Greg Sidles, Zach Schleininger, Tyler Schleininger, Nate Sukalski, Roger Schroeder, Matt Dinesen and Katie Tanley.
His Sponsors: Skyrocket Chassis of Joice; MB Auto Clinic LLC, Looft Tankwagon Service and Craig Deim Seeds, all of Swea City; Greg Penning & Co. LLC and S & B Farms Distillery, both of Bancroft; RL Ag Sales-Wyffel Hybrids of Armstrong; Bierstedt Farms of Cylinder; Ellsworth Brothers Manure Pumping, Mabus Feed Lot and Lofstrom-Krantz Farms, all of Lakota; Big D's Trucking of Estherville; Fast Shafts of Des Moines; Mitchell Machine of Webster City; CPD Racing Shocks of Fort Dodge; S & S Machine of Belle Plaine, Minn.; Grotte Construction of Fairmont, Minn.; Broken Arrows Photography of Alpha, Minn.; Guitar Man of East Chain, Minn.; Moonlite Race Parts of Good Thunder, Minn.; Brent Prouty and REMAX Realty Plus of Redwood Falls, Minn.; C & L Woodworking of Mankato, Minn.; Esser Distributing of Blue Earth, Minn.; Snap Graphics of Mapleton, Minn.; Keechinator Photography of LeSeuer, Minn.; AFCO of Boonville, Ind.; Swift Springs of Chino Hills, Calif.; and Engine Quest of Las Vegas, Nev.