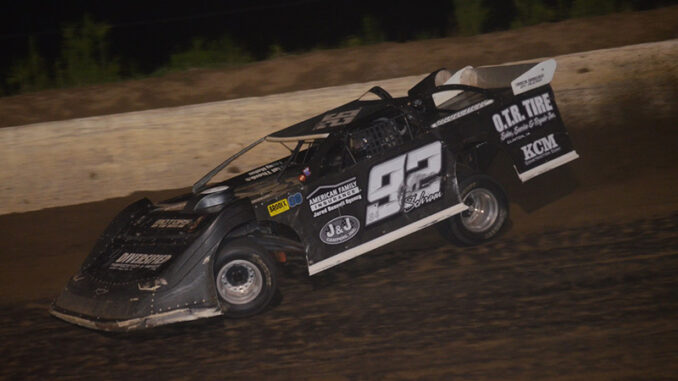 STERLING, Ill. (Nov. 11, 2022) – Dustin Schram was already familiar with the view from victory lane at East Moline Speedway. 
His latest trip there ranked among the highlights of his IMCA Sunoco Late Model national rookie of the year season.
"We decided to do something different this year," Schram said, after winning a pair of track titles at East Moline along with 28 features over the 2017-2021 course of his Friesen Performance IMCA Northern SportMod career. "Our goal was to win rookie of the year in the Late Model. We did that, we won two features and we even led the national points for a couple weeks."
Wheeling a 2018 MastersBilt purchased from Chuck Hanna – the last Illinois driver to win IMCA Late Model national rookie of the year honors, in 2012 – along with three pickup loads of spare parts, Schram made 34 starts at six different tracks, getting his first win on June 4 at 34 Raceway, just a week after breaking big time at Dubuque Fairgrounds Speedway.
"It seemed like we'd start feeling good in the car and then we'd have motor issues," said Schram, who led the national points race for two weeks before another powerplant imploded mid-July at Independence Motor Speedway. "Our car was a combination of pieces put together to finish the season so it was kind of a mutt, but we had it running pretty good."
Win number two came on Aug. 28 during the season championship night show at home track East Moline.
"I cut my teeth racing there and I've been told if you can win at East Moline, you can win anywhere," he said. "It's my favorite track. To be able to outrun those guys my first year and to win on season championship night was really cool. They let people down from the grandstand after the race you couldn't see the car" in the victory lane photos.
The runner-up at East Moline and ninth in national points Schram is already building a new motor for next season with plans to race a homebuilt chassis in 2024.
"I might travel more if I can next year. I won't chase points," he said. "I like new tracks and you can only get better racing at different places."
Wins, 2 – Top Fives, 13 – Starts, 34
His Crew: Parents Casey and Audra, Tony Hahn and Brad Sterling.
His Sponsors: Diversified Fabrication & Repair and J & J Campers, both of East Moline; Pfeiffer's Race Engines of Freeport; KCM Construction of Colona; Hamburg Enterprises of Dixon; Don's Sea Food & Chicken, Sterling Farms, Motors by the Outlaw and Financial Management by Audra, all of Sterling; Tony Hahn Motorsports of Hoople; Jared Bennett and American Family Insurance of Muscatine, Iowa; OTR Tire & Repair of Clinton, Iowa; and Cen-Pe-Co Super Racing Oil of Walcott, Iowa.