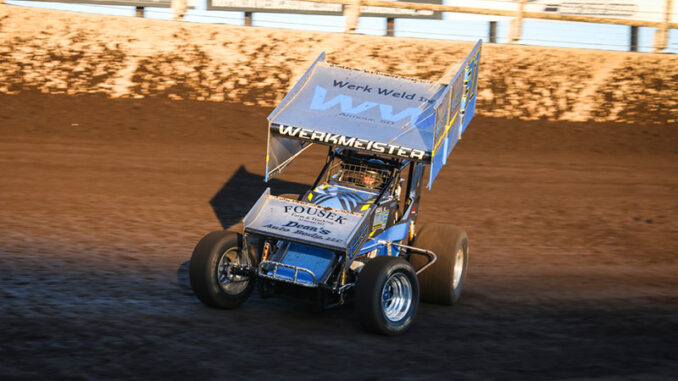 ARMOUR, S.D. (Nov. 10, 2022) – Koby Werkmeister went from starting in back getting seat time at the start of the 2022 season to winning the IMCA RaceSaver Sprint Car rookie of the year award at the end of it. 
Along the way, the 16-year-old from Armour, S.D., picked up his first feature win in the winged division, in addition to I-90 Speedway track and South Dakota State championships.
"We just went into the year looking to get seat time and a feel for the car. The rookie award was not a goal until we were told about it mid-season," he said. "We started watching points more closely then and really concentrated on doing our best every night."
"Now I look back and ask myself 'how did we do this?'" continued Werkmeister, 14th in the national point standings. "I can't thank my parents and everyone who has helped me enough for everything they've done for me. It's been a lot of fun."
Werkmeister's prior racing experience had been solely in go-karts, starting at the age of 12 in a kids' class on a local track shared with riding lawn mower hotshoes.
"I raced one time and was hooked from there," said Werkmeister, who would become a fan of the class before racing a Sprint Car himself.
"There are big differences between a go-kart and a Sprint Car, obviously the size and the speed. Sprint Cars have shocks and are a smoother ride," he noted. "The drivers I race with are all nice and there's a different variety of ages. There are lots of different tracks you can race at, too, from the big half miles to the smaller ones."
He made 30 starts in his home state and is most partial to Huset's Speedway, site of his career first win on July 31.
"It was really exciting. Surreal, too," said Werkmeister, a junior at Armour High School. "It was exciting to finally get that win, especially after starting 11th that night, and everyone congratulated me. It made all the work we put in on the car worth it."
He's the first South Dakota driver to win the Sprint Car ROY title since Gregg Bakker in 1996.
Wins, 1 – Top Fives, 10 – Starts, 34
His Crew: Parents Kevin and Brenda, uncles Jim Werkmeister and Dan Werkmeister, and great uncle Allen Werkmeister.
His Sponsors: Werk Weld Inc., Vogt's Repair, Bob's Farm Service, Dean's Auto Body and Fousek Trucking, all of Armour; Central Plains Automation, Make It Mine Designs and Iverson Auto, all of Mitchell; Rexwinkle Concrete of Corsica; MDS of Parkston; Owen Industries of Carter Lake, Iowa; and Diamond Vogel Paint.