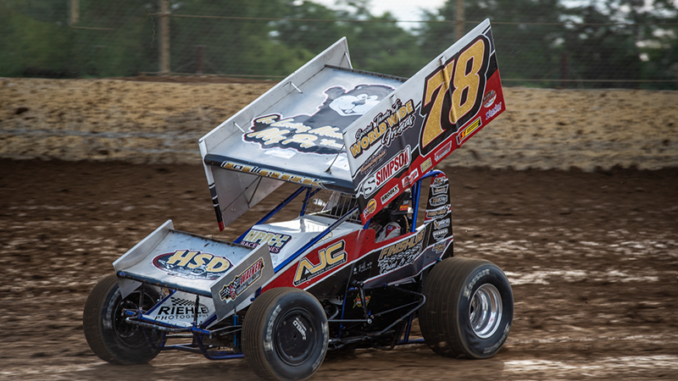 HAMERSVILLE, Ohio (Nov. 10, 2022) – Winning a RaceSaver Sprint Car national championship is a special accomplishment.
Winning national championships in IMCA's winged division in consecutive years even more so and Justin Clark not only accomplished the feat, he did it in a car rescued from the scrap heap.
The Hamersville, Ohio pilot defended his 2021 title, outlasting Minnesota rival and friend Trevor Serbus in a close race to the 2022 crown.
He was a 14-time feature winner, also repeating as the top driver in Ohio Thunder Sprint Series and Ohio State point standings.
"We decided this spring that this would be our final RaceSaver season. Winning our first national championship last year still hadn't set in and we decided we wanted to run for it again," he explained. "The start of the season was very good and even when we didn't win our finishes were really consistent."
Clark reeled off three straight wins to start the year and had just one finish outside the top 10 before starting a streak of six straight victories with the checkers at Bloomington Speedway's $5,000 to win Kevin Huntley Memorial checkers.
"That was our career best payday so it was a pretty cool race to win. We lapped up to seventh place and it was definitely the highlight of our season," said Clark, who pocketed another $1,200 the next night at Whitesburg, Ky.'s Mountain Motorsports Park. "We're like every other driver. We want to win every race. Sometimes you get lucky and you win a bunch of races in a row like that."
His luck ran out after the sixth win with a flat tire and his only DNF in 27 starts.
Clark got right back on track, beginning with the $2,500 win at Atomic Speedway's 305 Madness special.
Twelfth in the RaceSaver Nationals main event, he wrapped up series, state and ultimately national championships with wins in two of his final three September starts.
The linescore on Clark's season saw 11 Ohio Thunder Sprint Series wins, two with the Schaeffer's Oil Indiana RaceSaver Sprints and one with the Allegheny Sprint Tour.
"Maintenance was a huge part of our success this season. Last year we lost a couple good races to parts failure and we really stepped that up this year," he said. "I had seen a car (a 2021 Maxim) advertised on Facebook that I bought for $250 wrecked. We put it together, put all new parts on it and it's probably the best car I've ever driven."
Clark sat with Serbus during last year's national awards banquet in Lincoln, Neb. They kept in touch throughout the 2022 point season, hung out 'til the wee hours during the RaceSaver Nationals and will meet up again during the Gateway Nationals next month in St. Louis.
"We had a good race with Trevor for the national championship. This was a positive way to end my RaceSaver career," said Clark, now 18th on the all-time wins list for the division with 40. "It will definitely help with my confidence as we try something different next year."
Clark became the first driver to win back-to-back IMCA RaceSaver national crowns since Elmer Morgan in 2001-2002. The only other Ohio driver to accomplish the feat was the legendary Deb Snyder in 1952-1953.
Wins, 14 – Top Fives, 25 – Starts, 27
His Crew: Parents Curtis and Lisa, Brandon Clay and fiancée Madyson Bevard.
His Sponsors: Tru Form Race Products of Lexington; Montgomery Motorsports of Jackson; Slicker Graphics of Cincinnati; Maxim Racing Chassis of Springfield, Ill.; NPD Race Engines of Pittsboro, Ind.; Benic Shocks of Marion, Ind.; Hoosier Sugar Daddy of Martinsville, Ind.; Simpson Race Products of Indianapolis, Ind.; Finish Line Paint and Drywall of Kalamazoo, Mich.; Xplicit Designz of Hartly, Del.; Walker Performance Filtration of Sun Valley, Calif.; T3G of Ohio; Worch Racing of Washington; TSI Truck Sales of Florida; and World Wide Friends.