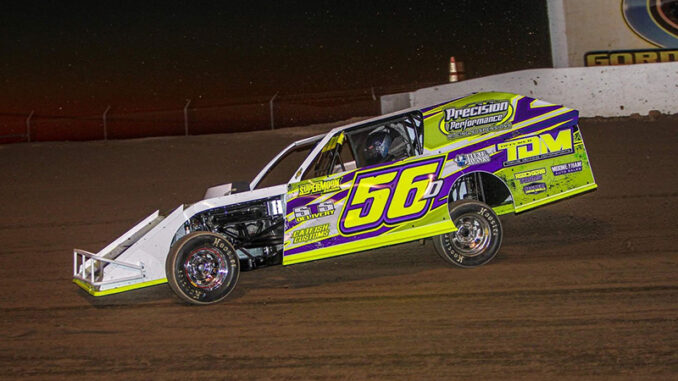 STERLING, Ill. (Nov. 9, 2022) – A season that began with high expectations ended with Travis Denning winning his career-first Razor Chassis North Central Region championship.
Denning more than doubled his career total with 15 Friesen Performance IMCA Modified feature wins, while topping East Moline Speedway and Maquoketa Speedway standings. From Sterling, the Illinois State king was fourth in the national points chase.
"We started the season wanting to win the East Moline championship, get 10 feature wins and do as well as we could in national points. As far as those go, you never quite know where you're going to end up," Denning said. "We knew we were going to be good in our new Performer by Precision Performance car, but we didn't know we were going to be that good."
"Everybody has high expectations at the start of the season. Ours became reality."
Denning's seven wins at East Moline included checkers at both the Ron Weedon Memorial and season championship night shows. He also won three times at Maquoketa and at Davenport Speedway, where he was the 2021 track champion, and twice at 34 Raceway.
"We unloaded in Arizona the first week in January for the IMCA.TV Winter Nationals and knew we had a good car. I've never had a car like the one Precision Performance gave me and their technical support helped me out a ton," Denning said. "I probably could have won five or six more races but I put myself in a bad position. We just had a better car than we did a driver those nights."
A second generation driver, Denning was IMCA's national Late Model rookie of the year in 2011. He began racing a Modified in 2018, doing double duty in a UMP late model before "putting all (his) eggs in the basket with IMCA this year."
"You can run an IMCA Modified five or six nights a week if you want to. From Sterling, we're one to two hours away from any track I want to go to," he said. "I grew up racing with (2021 IMCA national champion) Jeff Larson. The competition around here is some of the best around."
Larson and Denning are the only drivers from Illinois to win IMCA Modified regional titles. Denning was 10th in last year's national point standings.
Wins, 15 – Top Fives, 29 – Starts, 45
HIS CREW: Father Steve, Joe Foshee, Jimmy Near and Jesse Bodine.
HIS SPONSORS: Precision Performance, Oxford, Iowa; STS Delivery and Catfish Customs, both of Sterling; Segneri Custom Installs of Rock Falls; and Supermoon Graphics of Verona, Mo.