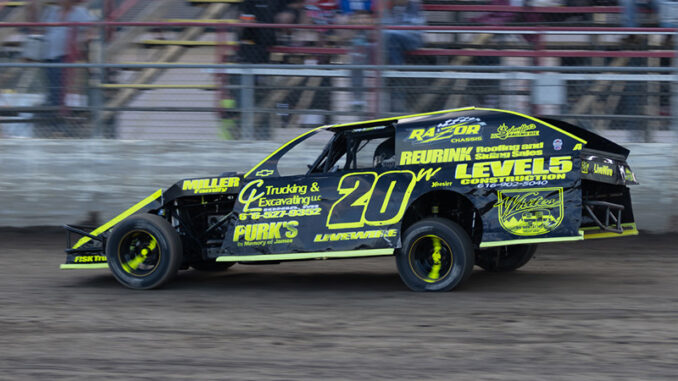 IONIA, Mich. (Nov. 8, 2022) – A.J. Ward found himself almost out of options just 14 starts into his 2022 season.
After wrecking and rebuilding his Friesen Performance IMCA Modified, the Ionia charger was fast but not fast enough and six checkers short of the long-time goal he had set of surpassing Rick Stout as the winningest driver in division history from Michigan.
"We had already won six times, then got air borne and twirled around hard mid-May from an outside retaining wall tractor tire at Thunderbird Raceway," explained Ward, in the hunt for Dirt Works Eastern Region and national championships as well. "We rebuilt the car but it just had that feeling where you knew you couldn't get any more out of it. We were fast enough to do everything but win for about the next month."
"The change we made in our setup was the kind of stuff you do when you're all out of options," he continued, "but it worked and we started turning those second and third-place finishes into wins and we were a 'go' for the rest of the year."
Ward would total 17 victories on the season, passing Stout with career win number 151 in late July. After a turn atop the national point standings, the Dirt Works Eastern Region champion finished as runner-up for the second straight season and for the third time in five years.
The regional crown was the career fifth for Ward, who captured I-96 Speedway and Thunderbird Raceway track titles, along with his sixth Michigan State championship.
Six of his home state wins came at I-96. Ward also traveled to Florida before the snow melted in Michigan and came home with three early-season victories.
"Definitely, catching Rick with win number 151 was one of our highlights this season," he said. "And the national points race was a dogfight until Jordan (Grabouski) edged us out. We raced two times every weekend against a lot of the best drivers in the division and led national points in late July."
"It's not easy to compete for the national championship but if it was, everybody would do it."
Now 17th on the all-time list for the division with 156 feature wins, Ward will renew his pursuit of that national crown aboard a new Razor Chassis in 2023.
Wins, 17 – Top Fives, 41 – Starts, 45 
His Crew: Son Kraton, Cody Darnell, Spencer Flint and girlfriend Morgan Echter.
His Sponsors: Level 5 Construction, Darin Elliott with Green Ridge Realty, CL Trucking and Excavating, Smokey Mountain Tobacco, Ionia Race Car Swap Meet, Reurink Roofing & Siding, Modern M Imagery and Tommy Tow Truck, all of Ionia; TWI Installation and TWI Motorsports, both of Stanton; White's RV Rental of Fenwick; BSM Lawn Care of Belding; Bob Morgan and Schaeffer's Oil & Lubricants of Bellevue; Brinn Inc. of Bay City; Bob Harris Enterprises of Ames, Iowa; Fast Shafts of Des Moines, Iowa; Wehr's Machine and Racing Products of Bangor, Wis.; and Razor Chassis by Roth of Platte Center, Neb.