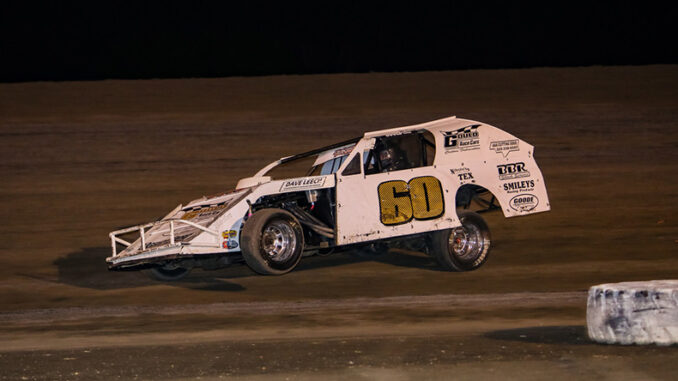 CALERA, Okla. (Nov. 8, 2022) – While William Gould's 28th Modified season was a learning one, he still taught his GRT Race Cars Southern Region foes a thing or two, too.
Gould motored to a second straight and career sixth regional championship while collecting 14 Friesen Performance IMCA Modified feature wins, along with track titles at Boyd Raceway and Kennedale Speedway Park and the Texas State crown.
"The goals we set for ourselves every year are to win the region, two track championships and, depending on how good we are, to see where we are in the point standings," said the Calera, Okla., hotshoe, third nationally this year behind Jordan Grabouski and A.J. Ward. "You can spend God knows how much money chasing specials, or you can race weekly, then put on a suit and tie and go to the national banquet and get checks for $7,000-$10,000."
"That's pretty good money for a working man who just likes to race."
Every indication early in the season was that the 2022 season would be a special one. Gould topped the opening night Ice Breaker at Abilene Speedway, returned to Devil's Bowl Speedway for the first time in 20-plus years to win during the Lone Star Tour show, and paced Heart O' Texas Speedway's Jack Bagby Memorial.
Then the mechanical gremlins began to pop up.
"This was the first year I ran a crate engine all season and it took four of them to get in 52 starts," said Gould, maintaining a sense of humor while crediting sponsor Kerry Fryar at Triple A Cutting Services with helping him get back on the track. "It was something different that broke every time. The engines arrived race-ready and it was up to me to break them in half."
The state championship was his career fifth and fourth in Texas. Gould was an eight-time winner at Boyd while complementing a single checkered with season-long top five finishes at KSP.
"Richard Snyder keeps Boyd really racy. It's a track that has always fit my driving style," he said. "Kennedale is a track where you have to be consistent. You have to race hard and smart there."
Gould's first regional crown had accompanied his 2013 national championship.
"It's always good to win the region but that first one will always be a little more special," he said. "We'd never really raced for points or even won a track championship before then."
Also the winner of two IMCA Sunoco Stock Car features this season, Gould's 179 career IMCA Modified wins are 13th on the all-time list for that division.
Wins, 14 – Top Fives, 39 – Starts, 52
HIS CREW: Wife Dana and son David.
HIS SPONSORS: Gould Race Cars and Innovative Traction Solutions, both of Calera; D&R Construction of Caney; Nikole's Country Store of Tishomingo; Dino Rendon and Texoma Auto Care of Denison, Texas; Guillaume Motorsports of Haslet, Texas; Jerry Frydrych and Bet All Racing, Waco, Texas; Goode Towing of Killeen, Texas; Kerry Fryar and Triple A Cutting Services and Levi Ely's Pit Stop BBQ, both of Merkel, Texas; Smiley's Racing Products of Mesquite, Texas; Dave leech Construction of Abilene, Texas; Adams Automotive of Van Alstyne, Texas; Hanjack Farms; BSB Manufacturing of Wellington, Kan.; Wehrs Machine and Racing Products of Bangor, Wis.; and Fast Shafts of Des Moines, Iowa.