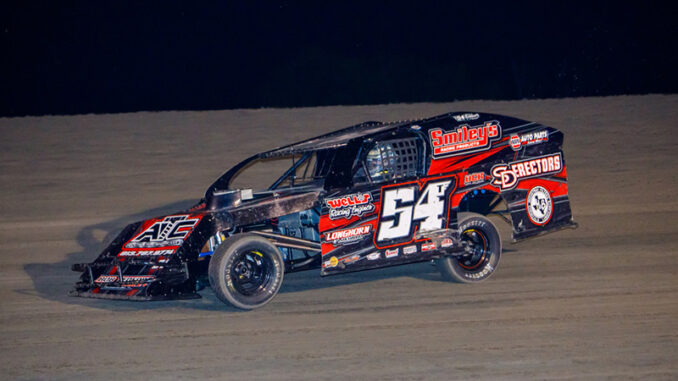 FARMERSVILLE, Texas (Nov. 7, 2022) – Matthew Day was enjoying a successful first Friesen Performance IMCA Modified season before taking a racing vacation to the Midwest.
After an intense and personalized tech seminar in the pits at Deer Creek Speedway, he went home to Texas even faster.
Already much accomplished in his brief IMCA career, the 19-year-old Farmersville flyer earned national and GRT Race Cars South Central Region rookie of the year honors, as well as Heart O' Texas Speedway and Southern Oklahoma Speedway track titles and the Oklahoma State crown this season.
"Winning 12 Modified features, finishing fifth in the nation and being the national rookie of the year was a much bigger deal than anything I've done before," said Day, the top Southern SportMod rookie in 2020 and national champion in the division last season. "You have to have a good car and you have to know how to drive it, because you're racing against the best drivers every night."
Day was a winner in just his third start this season, taking the first of what would become six checkers at Waco. He'd win another five features at Ardmore and one at Kennedale Speedway Park, finishing second in regional standings.
"We started the year off right and got some wins early. The suspension was completely different but we were fast," he said, "and I was driving the car a lot like I did the Southern SportMod."
Sponsor Kevin Stoa at KS Engineering had introduced Day to fellow Longhorn Chassis by Loenbro driver Dave Cain, and the WISSOTA veteran was a frequent caller in helping Day learn the nuances of his Modified ride.
The two met in person to go over his car bumper to bumper in the pits before the Harris Clash, finishing up that tutorial about 15 minutes before Day was due for hot laps.
"Dave was a perfect fit for what we needed. Without his help, I don't know if he would have been rookie of the year, if we'd gotten all those wins or even one win," said Day. "We made the car exponentially faster at the Harris Clash, then we came home and were faster everywhere we raced, especially at Ardmore."
"Southern Oklahoma is my favorite track," he added, "and we had a lot of success there again this year. Racing from ninth starting to win the Jordan Page Winter Nationals (and $2,500) was one of the highlights of our season."
Now studying toward a structural engineering degree at Collin Community College in McKinney, Day is already putting in time in the shop preparing for his second season in the division.
"I love working on these cars and with the way my class and study schedule is, I can put in the time I need to work on mine," he said. "With a Modified, there's always something to do. You can't just show up with one of these cars and race."
Day is one of the two drivers winning national rookie of the year honors in a second division this season, joining Kaden Reynolds in the accomplishment.
Wins, 12 – Top Fives, 29 – Starts, 49
His Crew: Parents Dan and Sandra, brother Mason, sister Morgan, Zac Sydney, Colton Keel and Dylan Pritchard.
His Sponsors: SD Erectors and Bob Tedford Chevrolet, both of Farmersville; Wells Racing En­gines and H and B Industries, both of Duncanville; Bronco Manufacturing of Anna; Real Racing Wheels of Independence, Iowa; KS Engineering of Albert Lea, Minn.; Dave Cain Racing and Cain Designs & Wraps, both of Corcoran, Minn.; and ATC Bolts and Fasteners of Dover, Fla.