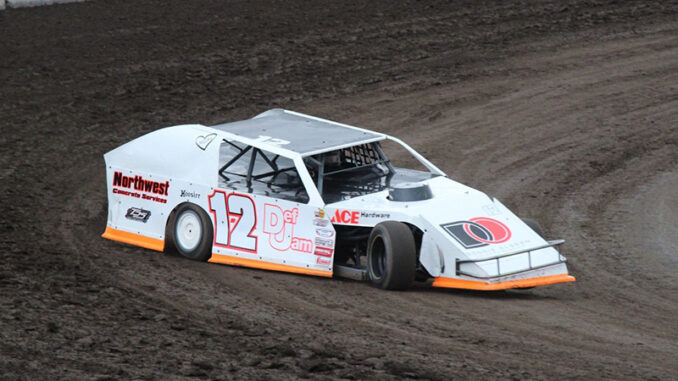 BELGRADE, Mont. (Nov. 7, 2022) – The season where Ty Clemens wasn't chasing points ended with him on top of point standings for the Shaw Race Cars Western Region.
The 13-time Friesen Performance IMCA Modified feature winner from Belgrade repeated as track champion at hometown Gallatin Speedway while becoming the first driver from Montana to win a regional championship in any IMCA division.
"We were excited to win this. We weren't points racing this season," he said. "Last year we tried to race as much as we could, ran 58 nights and wore ourselves out finishing seventh nationally. This year we didn't focus on points and did better, finishing sixth, because our top 25 finishes were better."
"It was a surprise to find out I was leading the regional points," he added. "I didn't know because it wasn't something we were watching. I was talking to another driver at the track and he told me I was leading the points. I was just out there trying to win races. I wasn't aware of where we were until about 7/8's of the way through the season."
Clemens has been out there trying to win races since 2005, in WISSOTA street stock and then super stock classes. He still uses the open trailer he bought for $800 when he started at the age of 15, towing 30,000 miles to tracks in Montana and six other states this year behind the same 1996 Chevrolet pickup he drives to work.
"I have raced an IMCA Modified since 2017. We were looking for something different and going to the IMCA side of things meant we could race at more tracks," he said. "I've done most of my racing at Gallatin, which is about half a mile from my home, but we've had a lot of fun traveling too."
A first-generation racer, Clemens caught the dirt track bug from a neighbor at an early age.
"I was about eight years old and over there bugging the as much as they'd let me," he said. "When I got a little older I started going to the track to the and my first job was wiping out the fuel cell. My arm was the only one that would fit."
His 13 feature wins this year were one more than his single season career best total from a year ago. Clemens final IMCA starts of 2022 saw him finish sixth at the $10,000 to win Survive the 55 special at Skagit Speedway in Washington and 13th at Oktoberfest at Dacotah Speedway in. North Dakota.
"I like running the specials, absolutely. They make you better," said Clemens, who will debut a new PCD car in Arizona next March. "Sometimes you can get complacent racing weekly. Running specials keeps you on your toes for sure."
Wins, 13 – Top Fives, 29 – Starts, 35 
HIS CREW: Dillon Hoppe.
HIS SPONSORS: PCD Chassis of Springdale, Ark.; TDS Suspension, Star, Idaho; Northwest Concrete Services, Gdc Spooner, Plumber Joe, Dr. Pete Gannon and his mother Daun, all of Belgrade; Hilgard Pin, Manhattan; Donnie Olsson Realty of Bozeman and Brinn Transmission of Bay City, Mich.