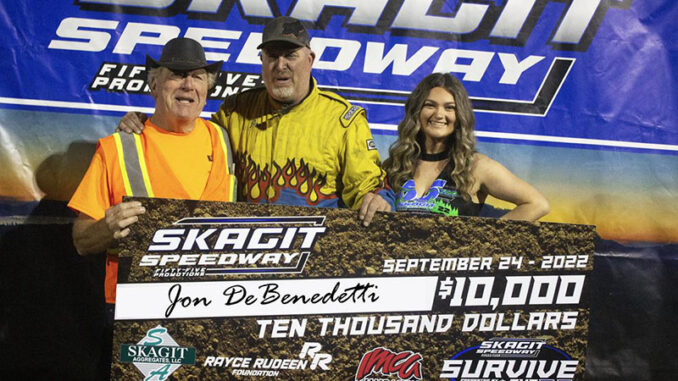 ALGER, Wash. (Sept. 24, 2022) – After picking his way through lapped traffic, Jon DeBenedetti picked up a $10,000 Friesen Performance IMCA Modified paycheck.
The Rogue River, Ore., driver made a rare visit to Skagit Speedway pay off big time on Saturday night, leading the last half of the Survive the 55 special at Alger.
"At this point in my career, to be at the top of my game pushing 25 years and win this race is really special," said DeBenedetti, newly eligible to qualify for the Fast Shafts All-Star Invitational. "To come up here and be able to go against the best of the Pacific Northwest means a lot."
SDMF Chassis teammate Jesse Williamson was next to the checkers in the 55-lapper. Eston Whisler, Bricen James and Ian Whisler rounded out the top five.
DeBenedetti was making just his second career start at Skagit after a runner-up finish in a weekly show there eight years ago and compared the Alger oval to Arkansas' Batesville Motor Speedway.
"It's a very racy place," he said. "I was surprised at how high we could get on the track, we could run on the inside and it was very forgiving."
DeBenedetti had started outside Nick Trenchard on the front row and fell back to fifth in the early going.
"I had to search around some. It was more important to know where to run the first 15-20 laps and get a feel for where the car would need to be when we had to pick our way through lapped traffic," he explained.
He was running with traffic and he began working his way toward the front, passing Trenchard for the lead before the mandatory fuel stop on lap 30.
Nineteen quick green flag laps clicked off before a caution with six circuits left. James made an unsuccessful do or die try at the leader with two to go and Williamson didn't have enough laps left to catch up.
Ty Clemens and hard charger Joey Price made the trip from Montana to finish sixth and seventh, respectively. Price had started 22nd.
The win was DeBenedetti's second of the season. Survive the 55 was sponsored by Skagit Aggregates.
Feature results – 1. Jon DeBenedetti; 2. Jesse Williamson; 3. Eston Whisler; 4. Bricen James; 5. Ian Whisler; 6. Ty Clemens; 7. Joey Price; 8. Craig Cassell; 9. Mark Carrell; 10. Steven Sturdevant; 11. John Campos; 12. Lawrence O'Connor; 13. Nick Trenchard; 14. Matthew Drager; 15. Robert Jenner; 16. Rick Smith; 17. Jeffrey Hudson; 18. Kevin Smith; 19. Ben Gunderson; 20. Don Martin; 21. Collen Winebarger; 22. Nick Bessette; 23. Tyson Blood; 24. John Gaynor; 25. Aaron Elwess; 26. Grey Ferrando.