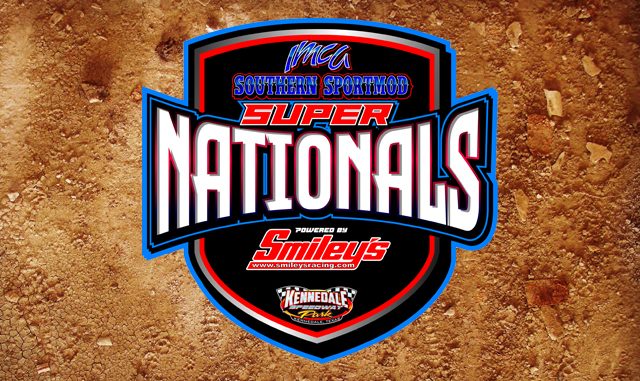 KENNEDALE, Texas (Sept. 8, 2022) – Just about the time promoter James Lopez gets one project done, there's another one that needs his attention before the start of the Smiley's Racing Products IMCA Southern SportMod Nationals. 
And he wouldn't have it any other way.
Lopez and his small but mighty crew at Kennedale Speedway have worked long days and late nights to get everything just right for the inaugural event Sept. 8-10.
The winner's share of the purse is $5,000, which includes a $2,000 bonus from IMCA. The main event pays a minimum of $300 to start, with another $50 paid to the leader of each lap plus an extra $50 paid to drivers finishing 10th through 19th courtesy of Performance Transmissions in Kennedale.
Top four finishers in the main event receive trophies identical to those to be awarded in each of the divisions competing this weekend at the IMCA Speedway Motors Super Nationals fueled by Casey's at Boone Speedway.
"I'm literally getting 50 to 75 calls or texts a day about this race," said Lopez, adding that 77 Southern SportMod drivers had pre-registered for the event as of 9 a.m. Thursday and that 30 of them were already in the pits socializing and getting ready for the evening's practice session.
"The biggest thing we want to have happen this weekend is that the drivers come here, have fun and enjoy the races," he continued. "The campsite is already set up and we've got a lot of work done around the track. But no matter how they finish, we want drivers to come and have a good time, and go home feeling like they won."
Drivers and fans alike will appreciate the new lighting on the front straightaway and new speakers in the grandstands and pit area
Practice tonight runs from 6-8 p.m. with racing at 7 p.m. both Friday and Saturday.
A cornhole tournament starts at 11 a.m. and the DFW 1RC Club Cars mini Southern SportMod Super Nationals gets underway at about 1 p.m. Saturday. The $1,000 to win race of champions is also on the card that evening.
"I don't think I've slept in about 36 hours," said Lopez, bouncing back and forth between the job he gets paid to do and the job he loves to do. "But when people come here and have fun it will all be worth it."