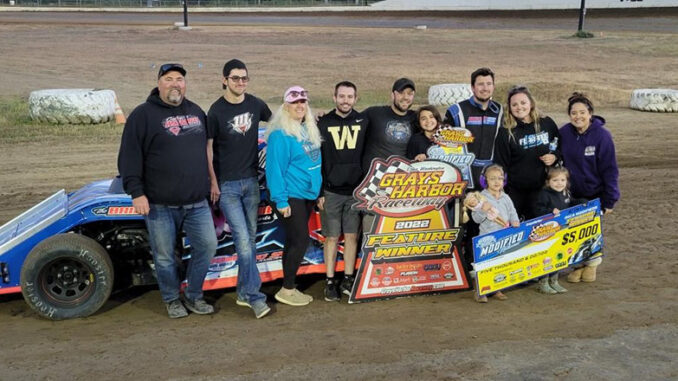 ELMA, Wash. (July 23, 2022) – Collen Winebarger is hitting his stride at just the right time.
Just a week after topping the $5,000 to win special for IMCA Sunoco Stock Cars at Sunset Speedway Park, the two division star from Corbett, Ore., scored another $5,000 checkers Saturday night at Grays Harbor Raceway's Shipwreck Beads Nationals.
The July 23 win was the richest in his Friesen Performance IMCA Modified career.
"We had some DNFs and some other dumb stuff that happened earlier this season whenever it wasn't raining," said Winebarger, who'd gone winless in just 10 starts between April 2 and July 3 before sweeping the July 16 program at Sunset. "Now we're hitting our stride and running well, and fortunately we're doing it at races that pay well."
Already guaranteed to start the B & B Racing Chassis All-Star Invitational for Stock Cars, Winebarger's second Modified win of 2022 also earned him Fast Shafts All-Star Invitational qualifying eligibility at the upcoming IMCA Speedway Motors Super Nationals fueled by Casey's.
"We traveled more the last two seasons. This year we've been staying closer to home," he said. "It's been nice to have the opportunity to race for more money without traveling so far."
Winebarger started inside row two for the 40-lapper at Elma and passed Aaron Elwess for the lead early on.
A long green flag took Winebarger into lapped traffic and positions in the top five behind him changed hands fast and furiously. Nick Trenchard and Jon DeBenedetti advanced to second and third, respectively, but neither could reel in the leader following a late restart.
Completing the top five were Grey Ferrando and John Campos.
A former Shipwreck Beads Nationals winner, Winebarger has raced at Grays Harbor two or three times a year "since forever" and improved on an eighth place finish in the June Wild West Shootout main event.
He had just less than three gallons left in the tank at the end of the feature Saturday night and was all of six pounds to the good on the post-race scales.
Feature results – 1. Collen Winebarger; 2. Nick Trenchard; 3. Jon DeBenedetti; 4. Grey Ferrando; 5. John Campos; 6. Nick Bessette; 7. Bricen James; 8. Aaron Elwess; 9. Brad Martin, 10. Tyson Blood; 11. Lawrence O'Connor; 12. Austin Kerrigan; 13. Jeremy Martin; 14. Craig Moore; 15. Albert Gill; 16. Brenton Schnitzer; 17. Jason Tole; 18. Rick Smith; 19. Robert Jenner; 20. Kyler Moore; 21. Sam Carlisle; 22. Blair Shoemaker; 23. Brian Harding; 24. Scott Miller.