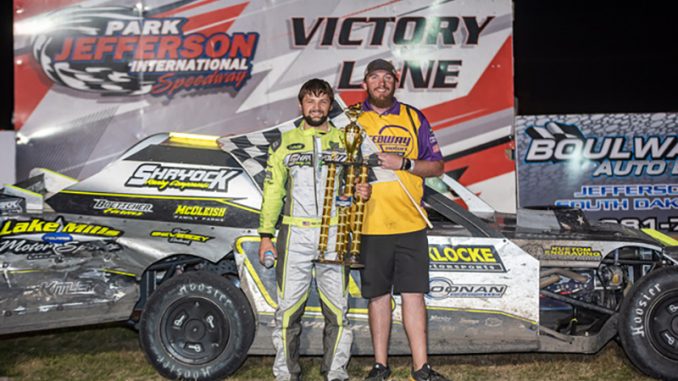 JEFFERSON, S.D. (June 21, 2022) – Colby Fett put Park Jefferson Speedway's Heartland Horsepower Nationals on his racing radar early this spring.
After making sure he could get off work and seeing what the weather would do, he kept a top-flight field of Friesen Performance IMCA Northern SportMods behind him and put $5,000 in the bank.
Fett led the last 10 of 30 laps Tuesday night, outrunning the likes of Logan Anderson, Brayton Carter, Robbie Thome and Jared Boumeester to the checkers and the career-best payday.
"We've been a bridesmaid a lot this year and I've gotten second in so many of these big races before, I just couldn't believe it," admitted Fett, runner-up in seven of his 17 starts leading up to the rich special at Park Jeff. "This was a big win for us and our team."
He'd taken the initial green flag from fourth, moved up to the outside of the front row following a first lap caution and then chased Boumeester for most of 20 circuits before finding his way to the front.
Fett led the pack into lapped traffic, defending the high line while staying at the point despite right rear tire issues.
He crossed the stripe about two car lengths ahead of Anderson, who looking for another big win of his own after topping Hancock County Speedway's IMCA SportMod Nationals the previous week.
"This is the first time I've ever raced at Park Jefferson. It's three hours from home," said Fett. "We watched a couple races from here on IMCA.TV replay to decide on setup and talked to Tyler Thompson (brother of Friesen Performance IMCA Modified driver Cody) before the main event started."
Fett had swept the Whole Hog Weekend at Stuart Speedway over the Memorial Weekend and won at Worthington earlier in June before making the trip to Park Jefferson.
"My car came on really good at the end. We've been trying a lot of different things with it, doing a lot with setup and learning more about it," he said. "It's fast all the time and we try to keep finding ways to be even faster with it."
Fett had run third in his heat and fourth in the qualifying feature on Monday night.
The inaugural Heartland Horsepower Nationals was presented by Premier Industries.
Feature results – 1. Colby Fett; 2. Logan Anderson; 3. Brayton Carter; 4. Robbie Thome; 5. Jared Boumeester; 6. Jake Sachau; 7. Brett Berry; 8. Arie Schouten; 9. Rusty Montagne; 10. Brandon Spanjer; 11. Tyler Nerud; 12. Karl Brewer; 13. Cole Czarneski; 14. Justin Klynsma; 15. Will Garceau; 16. Izac Mallicoat; 17. David Johnson; 18. Willy Kirk; 19. Drake Bohlmeyer; 20. Monty Nordyke; 21. Brett Thomas; 22. Josh Blom; 23. Devyn Peterson; 24. Lukas Pohlmann.