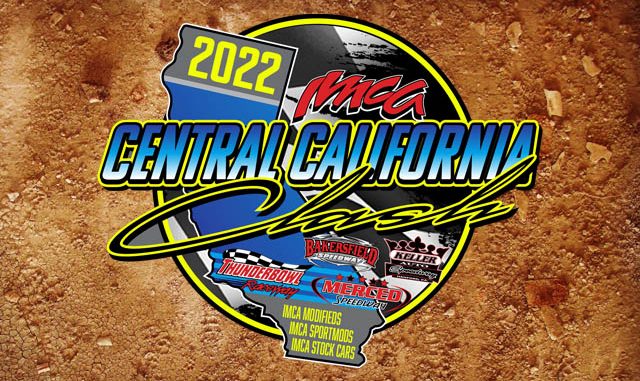 TULARE, Calif. (May 5) – Troy Foulger delivered an impressive Friesen Performance IMCA Modified win on night four of the Central California Clash Thursday at Thunderbowl Raceway.
The Oakley speedster led all 25 laps to earn the $1,000 checkers along with Fast Shafts All-Star Invitational qualifying eligibility. The race stayed green following a lap three caution as Foulger did his best to host Jake Pike at Bay.
"I had only made a few starts before at Tulare," said Foulger, fifth in Wednesday's Clash main event at Thunderbowl, "so we made driving style changes and not didn't a lot of setup changes. The bottom line was real good. I tried to keep the car straight and not get too anxious so no one could take the line away from me."
Pike started fifth and owned the runner-up spot from lap two to the checkers. Tuesday and Wednesday winner Cody Laney was third, with Troy Morris III and Robby Sawyer scored next.
The win was the fourth of the season for Foulger, his second in a Modified to go with a pair of Stock Car triumphs.
Garrett Corn raced to an IMCA Sunoco Stock Car career-best $1,700 payday in the Kris Mancebo Memorial feature and Nick Spainhoward made it back-to-back $750 wins in the Friesen Performance IMCA Northern SportMods.
Corn had a trio of top three hobby stock finishes at Tulare and bounced back from a 17th place showing the night before with the big money Stock Car win.
He took the lead from Anthony Guiliani on the 13th of 20 laps. The former Merced Speedway announcer wasn't challenged from that point and won ahead of Steven Johnson, Rick Diaz, Paul Stone and Loren DeArmond.
And Spainhoward matched buddy Laney's earlier Clash accomplishment with his second straight win, leading the last 15 laps. Opening night winner Tyler Bannister was the runner-up.
"With these guys out here, you can't mess up. Everybody is so good and I didn't feel like we were as fast as we were Wednesday night," said Spainhoward. "It was great to win two nights in a row like Cody did. He's a great guy and we've been friends for a long time. Hopefully we can keep rolling."
The Central California Clash next rolls to Merced for Friday, May 6 and Saturday, May 7 shows, Racing starts at 7 p.m.
Feature Results
Modifieds – 1. Troy Foulger; 2. Jake Pike; 3. Cody Laney; 4. Troy Morris III; 5. Robby Sawyer; 6. Bobby Hogge; 7. Paul Stone; 8. Jim Pettit II; 9. Jerry Flippo; 10. Matthew Hagio; 11. Ryan Porter; 12. Danny Lauer; 13. Raymond Keldsen Jr.; 14. Michael Scruggs; 15. Dalton Houghton; 16. Justin Gonzales; 17. Chris Crompe; 18. Clint Reichenbach; 19. Nick DeCarlo; 20. Braydon Gladd.
Stock Cars – 1. Garrett Corn; 2. Steven Johnson; 3. Rick Diaz; 4. Paul Stone; 5. Loren DeArmond; 6. Larry Thompson; 7. Mike Shepherd; 8. Chad Johnson; 9. Dakota Schweitzer; 10. Dave Hill; 11. Anthony Guiliani; 12. Miranda Scott; 13. Troy Foulger; 14. Brock Hamilton; 15. Bo Partain; 16. Steve Stone.
Northern SportMods – 1. Nick Spainhoward; 2. Tyler Bannister; 3. Andrew Pearce; 4. Jason Bannister; 5. Riley Jeppesen; 6. Cale Kanke; 7. Markus Frazier; 8. Adam Baker; 9. Jason Pugh; 10. Haley Gomez; 11. Orion Messina; 12. Codie Hampl; 13. Taylor Brard; 14. Willy Oathout; 15. Brian Baker.