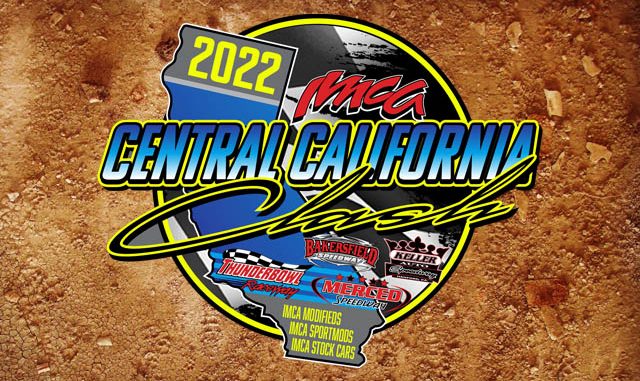 TULARE, Calif. (May 4, 2022) – He's not a fan of the film franchise but the force was with Cody Laney in the Central California Clash feature for Friesen Performance IMCA Modifieds on Star Wars Night Wednesday evening.
Laney started outside row one and led every lap in topping the May the Fourth main event at Thunderbowl Raceway, following his Tuesday victory at Keller Auto Speedway with another $1,000 checkers.
Monday night winner Bobby Hogge was second, with Jerry Flippo, Nick DeCarlo and Troy Foulger completing the top five.
"We had a long green flag run and passed a couple cars before Jake Pike showed his nose in (turns) one and two," Laney said. "I was able to clear him before the caution came out – we had a bunch of cautions late – and Bobby took over second."
"I didn't like seeing them. Every time there's a caution when Bobby Hogge is behind you, you have to stay perfect," he continued. "It took a couple laps after the restarts before I was able to get back in my rhythm and feel comfortable."
The win was Laney's career second at Tulare. He'd also won there on the second of a two-night show in 2017.
And for the record, Laney stated he didn't think he'd ever watched any of the Star Wars movies start to finish.
Larry Thompson rocketed from 12th in winning the $1,000 Kris Mancebo Memorial feature for IMCA Sunoco Stock Cars and Nick Spainhoward was the $750 Friesen Performance IMCA Northern SportMod winner.
Thompson led all 20 laps in a car with a throwback wrap to late friend Mancebo's ride. Steven Johnson led the first nine circuits with Thompson in second by just the third time around the oval.
The race was red flagged on lap 11; Arizona hotshoe Bo Partain made his Clash debut and swapped second with Johnson before chasing Thompson across the stripe. Johnson, Loren DeArmond and Mike Shepherd were scored next.
Spainhoward became the third different Northern SportMod winner in as many nights, saddling up in a borrowed ride and outrunning a pair of fellow Bakersfield foes in Monday winner Tyler Bannister and Tuesday winner Jason Bannister.
Adam Baker and Andrew Pearce completed the top five.
The Central California Clash is back in Tulare Thursday night, with a $1,500 check going to the evening's Kris Mancebo Stock Car winner. Modifieds race for $1,000 to win, Northern SportMods for $750.
Racing starts at 6 p.m.
Feature Results
Modifieds – 1. Cody Laney; 2. Bobby Hogge; 3. Jerry Flippo; 4. Nick DeCarlo; 5. Troy Foulger; 6. Troy Morris III; 7. Dalton Houghton; 8. Matthew Hagio; 9. Paul Stone; 10. Braydon Gladd; 11. Jim Pettit II; 12. Jake Pike; 13. Cameron Williams; 14. Devon Reed; 15. Kyle Heckman; 16. Cory McDonald; 17. Raymond Keldsen Jr.; 18. Vinny Raucci Jr.
Stock Cars – 1. Larry Thompson; 2. Bo Partain; 3. Steven Johnson; 4. Loren DeArmond; 5. Mike Shepherd; 6. Steve Stone; 7. Anthony Guiliani; 8. Chad Johnson; 9. Renn Bane; 10. Michael Shearer; 11. Dave Hill; 12. Rick Diaz; 13. Matt Mayo; 14. Troy Foulger; 15. Josh Nichols; 16. Paul Stone; 17. Garrett Corn; 18. Dakota Schweitzer; 19. Miranda Scott.
Northern SportMods – 1. Nick Spainhoward; 2. Tyler Bannister; 3. Jason Bannister; 4. Adam Baker; 5. Andrew Pearce; 6. Cale Kanke; 7. Orion Messina; 8. Riley Jeppesen; 9. Willy Oathout; 10. Jason Pugh; 11. Markus Frazier; 12. Brian Baker; 13. Jonathan Hagio; 14. Ryan DeForest; 15. Dave Pearson; 16. Taylor Brard; 17. Austin Pugh; 18. Codie Hampl; 19. Aaron Farrell.