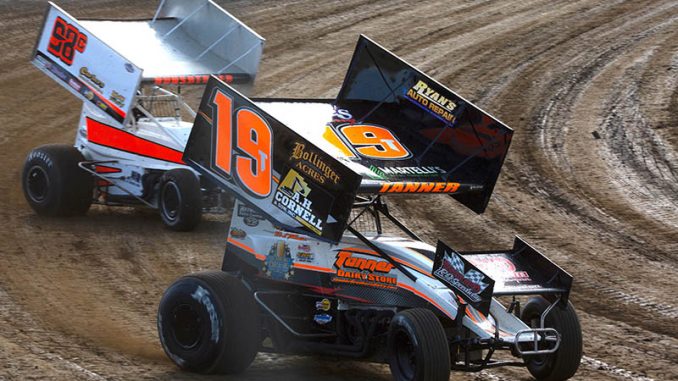 MADISON, Va. (April 21, 2022) – The people who believed in it are the people founder French Grimes want to make sure get credit for RaceSaver and its success. 
What has grown to become the largest sanction for Sprint Car racing in the United States celebrates its 25th anniversary season and its 11th in partnership with IMCA this year.
"The key to RaceSaver is to make sure money does not dominate any part of it," explained Grimes, who continues to compete with the Virginia Sprint Series at the age of 78 and remains hands-on in charge of rules, enforcement and inspection. "RaceSaver rules have not changed appreciably over the years. They cannot be personality adjusted and they have to be economical."
A shared philosophy of economical and competitive racing first brought RaceSaver and IMCA together in 2012; an agreement two years later allowed IMCA long-term use of RaceSaver rules while administering points and point funds for the winged division.
RaceSaver's budget-friendly approach to Sprint Car racing caught on quickly in the IMCA ranks, particularly as its innovative engine program helped more drivers to stay in, or join the class without breaking the bank.
The 2021 season saw RaceSaver competitors vie for track and special series championships in 17 states from coast to coast and border to border. Coupled with the growth of the RaceSaver Nationals held in September at Nebraska's Eagle Raceway, even bigger and better things are on the horizon for the winged class.
"The important thing now is when I go to the track, people recognize me and thank me for them being able to race Sprint Cars. That is all the payment in the world. We don't make any money off RaceSaver," said Grimes, who sold RaceSaver to Eagle promoter Roger Hadan for $1 in 2012. "We have more Sprint Cars than all the other organizations combined, period, and Roger's philosophy on keeping it economical for the racer is the same as mine. Roger and IMCA have helped save Sprint Car racing."
"We have all been building on the foundation for this division that French developed," Hadan said. "Other long-time believers involved in RaceSaver for decades cover the country with Jim Haines by French's side since the inception of RaceSaver. Tom Worrick in Pennsylvania, and Smiley Sitton and Rick Burdick in Texas, then Rod Ort took over the PASS series. Many other areas have jumped on the RaceSaver ship while watching other sprint series struggle."
"French is much too modest when it comes to taking credit for all that he's done," agreed IMCA Vice President of Operations Jim Stannard. "In racing, there are very few sets of rules that have withstood 25 years with no major changes. The only way that happens is when the smartest guy in the room writes the rules. I don't care how big the room is, French will be the smartest guy in it."
"Another indication of the grasp French has on the industry," continued Stannard, "was his pick of Roger Hadan to carry on the RaceSaver legacy."
Grimes learned the importance of economics and a competitive rules package first hand, after building his first sprint car a piece at a time in the early 1960s.
"I was able to get by finishing 12th and getting paid $85. Big paydays are great for spectators but they're hard on the average working man or woman who wants to race a sprint car," explained Grimes, who made his living training heavy equipment repairmen in a four-state area. "I don't care how much you pay for first as long as last place pays half that much."
"You can't run with a board of directors or for a profit. Your base has to be a benevolent dictatorship," he added. "I've watched many organizations come and go over the years. Their goal was making a profit with a big point fund paid by the tire company or some other manufacturer and the promoter getting a cut. People formed (sanctioning) groups for their own advantage. If you want to help the racer, that has to be your primary motive, not helping yourself."
Lessons in economics were reinforced when Grimes purchased one of the first RaceSaver engines he had built, serial numbered 004, after it had been used for 15 seasons by five different drivers.
"It dynoed and still made competitive horsepower," he stated. 'Roger and I were very gratified to see that engines built in 2022 do not overshadow an engine built in 1997."
The biggest help RaceSaver has received behind the scenes came from J.V. Brotherton and Brodix Inc. of Mena, Ark.
"I've known J.V. and his family for more than 50 years and I asked him to build the cheapest possible cylinder head," recalled Grimes. "J.V.'s integrity in upholding the RaceSaver concept is one of the main reasons we survived." "The integrity he brought to the table can't be bought. He supported RaceSaver and believed in the concept. Brodix cylinder heads are the main reason we survived. That is the story."
"Everything we've done has been about the racer, not about making money," said Grimes. "I couldn't make money promoting ice cubes in the tropics but Roger is a wonderful promoter. He's blown the doors off promoting RaceSaver and the RaceSaver Nationals, which is the best race in the country. He and J.V. both have the same integrity."
"Take out the names J.V. Brotherton and Roger Hadan and you haven't got a story. They are the reasons RaceSaver has grown to the height it has."