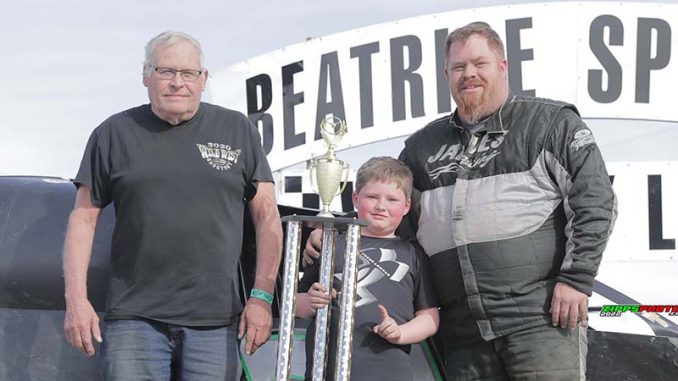 BEATRICE, Neb. (March 20, 2022) – Fifteen years and 21 laps of patience paid off for Jeff James.
James finally chased down Tim Watts, then led the last four times around the track for the much anticipated Spring Nationals IMCA Modified feature win Sunday at Beatrice Speedway.
"I followed him and I followed him and I followed him, and I was finally able to sneak up underneath him," said James, $2,500 richer and newly eligible to qualify for the Fast Shafts All-Star Invitational. "We've been coming to Beatrice for the better part of 15 years and have never won one before. We've been trying and doing a lot of different things for a lot of years. It's a relief to finally win one."
James had started outside Watts on the front row. Jacob Hobscheidt, Todd Shute and Johnny Saathoff, a seven-time Spring Nationals winner, completed the top five.
James' victory came in his sixth start in a second-hand 2020 Rage by Precision Performance.
He'd posted second- and third-place finishes in the same ride last fall at Beatrice's Octoberfest and ran sixth in the Saturday Spring Nationals opener. The Sunday trophy may go on long-term display in 8-year-old son Braxton's room.
"He hasn't let it go yet," James said. I'm guessing it will stay in his room for a while. It's almost as tall as he is."
Kyle Vanover's career third IMCA Sunoco Stock Car crown was good for $1,000 and B & B Racing Chassis All-Star Invitational qualifying eligibility. He led the last 20-lapper after passing Saturday winner Jordan Grabouski and Tyler Frye.
"We had a good five lap run and I got away (from the rest of the field) a bit," Vanover said following his career 104th win in the class. "I was worried about opening the door and giving it away after the last caution. We'd had just enough time to get into a rhythm but not enough to keep rolling."
Dan Nelson started ninth and ended in second. Frye, Grabouski and Chanse Hollatz rounded out the top five.
"I grew up going to this event and can remember how excited I was when they added Hobby Stocks and I'd get to race at Sprint Nationals," Vanover said. "We thought going into the week that we had a pretty good chance and overall it was a pretty successful weekend. We were third on Saturday and first on Sunday running with a good caliber of cars."
Vanover's previous Spring Nationals wins came in 2016 and 2018.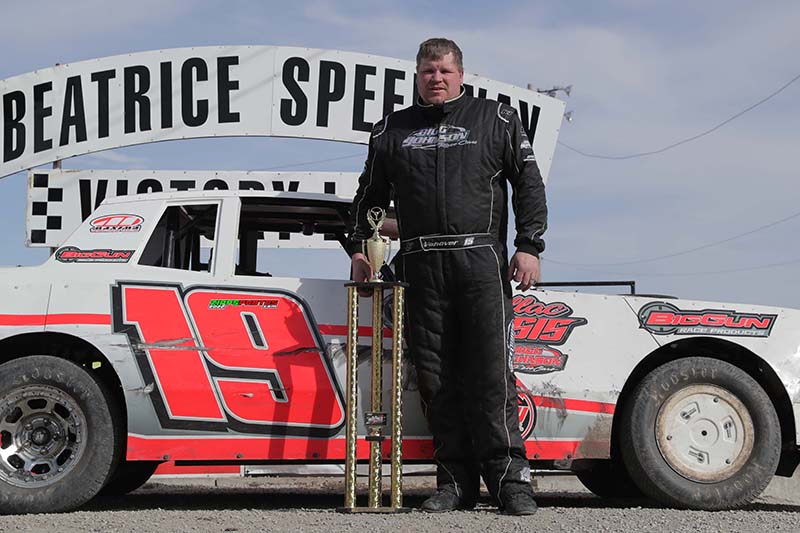 Kyle Vanover became a three-time Spring Nationals king, taking the Sunday IMCA Sunoco Stock Car checkers at Beatrice Speedway. (Photo by Jim Zimmerline)
Joining James as first-time Spring Nationals winners were Nick Ronnebaum in the IMCA Sunoco Hobby Stocks, Izac Mallicoat in the IMCA Northern SportMods and Zach Bohlmeyer in the Mach-1 Sport Compacts.
Ronnebaum started 8th and won ahead of 12th starting Taylor Huss and Justin Frederick.
Mallicoat led 12th starting and former Spring Nationals winner Lance Borgman across the stripe, with Dylan VanWyk third.
Bohlmeyer, Tyler Fiebelkorn and Kaden Murray ran 1-2-3 in the 4-cylinder finale.