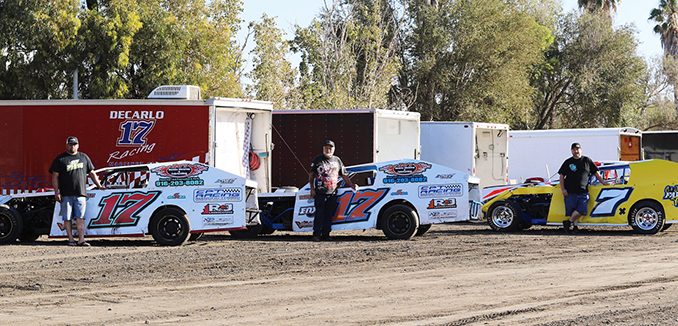 ANTIOCH, Calif. (March 18, 2022)– Winning the opening night feature at Antioch Speedway was great.
But even better, said Nick DeCarlo, was that he got his first IMCA Modified victory since late in 2020 while racing with his father and brother.
"It was emotional. I was really relieved," DeCarlo said following the rare start with father Terry Sr. and brother Terry Jr. "It had been so long since I'd won I'd considered giving up. There was a feeling of relief, to be honest, but with just that one win, man, I'm excited about racing again."
The Martinez driver brought 32 career wins in the division into the March 12 show. The last of those checkers came more than a year and a half ago, in mid-August California Speedweek and early September weekly races at home track Antioch.
His best finish in what proved to be a star-crossed 2021 was second, also on opening night and at Antioch.
"I had no luck last year," said DeCarlo, ticking off a list of DNQ's and DNF's that concluded with two tough outings at Ocean Speedway's season-ending Pettit Shootout. "My fiancée Madi (Garrison) asked me how I was feeling going to our first race this year. I won my heat race so I was feeling pretty good. Then I won the main event and was almost in shock. It was a good feeling to be able to do that."
Kellen Chadwick had threatened to run away early before DeCarlo reeled him back in in lapped traffic. Bobby Hogge IV moved into the lead after the front pair got together but couldn't deny DeCarlo, aboard the R & J Landscaping GRT ride, in the final circuits.
Terry DeCarlo Jr. ended in ninth, Terry DeCarlo Sr. – he started racing in the late 1970s, turns 80 in May and is one of IMCA's oldest drivers in any division – in 10th.
"It was awesome, racing with my dad and my brother. Most people don't get to do that. My dad and I work in the family auto repair shop. He's my mentor and teacher," DeCarlo said. "I'd only raced with my brother four or five times before. He took a 13-year break from racing to crew for his daughter Taylor and started racing a Modified last November."
DeCarlo ran mini sprints with his father and sister Teri Marie, progressing to non-wing sprints and crate late models before wheeling a Brad Coelho-owned Modified in 2007.
Taylor DeCarlo made her debut on opening night at Antioch on a local hobby stock class. The next family member to get on the track will be Nick's daughter Gianna.
"I'm going to race a couple more years, then get her in a go kart," he said. "Gianna is almost two now and she already loves the races."