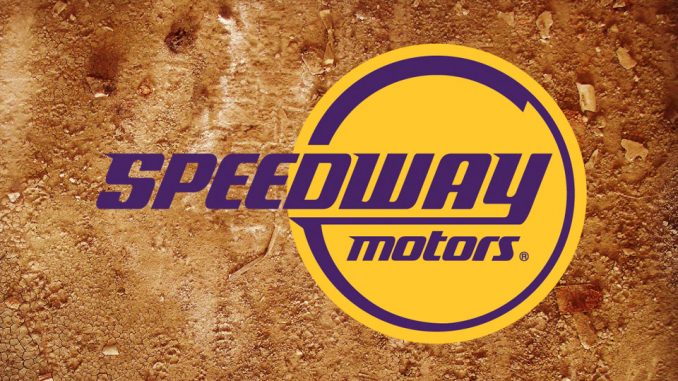 LINCOLN, Neb. (March 16, 2022) – Speedway Motors returns to invaluable sponsorship roles with IMCA in 2022, backing weekly race programs at more than 200 tracks in the United States and Canada while returning as title sponsor of Super Nationals, the biggest and most prestigious event in all of dirt track racing.
The Lincoln, Neb., high perfor­mance parts manufacturer, retailer and distributor offers more than 250,000 products for circle track, street, muscle and rod enthusiasts. IMCA's longest tenured sponsor at 43rd consecutive years, Speedway Motors traces its ties to the sanctioning body to the 1950s.
"This year marks our 70th anniversary and we're incredibly excited to continue to support IMCA and help customers in all nine IMCA divisions build their dreams in 2022. Our roots are in racing and for 70 years we've helped auto enthusiasts and racers build their best cars," Speedway Motors President and Owner Clay Smith said. "By supporting IMCA and its member tracks, we hope to help customers continue to build their dreams while keeping racing, safe, fun and affordable."
"Whatever you need for your automotive project, you can count on Speedway Motors to deliver," he continued, "with affordable prices, expert advice, and hassle-free service plus 70 years of experience to back it all up."
Now in its 15th year, the Speedway Motors Weekly Racing program helps IMCA tracks defray ongoing costs by providing jackets, promoter and tech official shirts, as well as dis­counts for tech inspec­tion equipment, flags and signage.
Complementary decals and feature winner hats are part of the popular program as well.
Top eligible finishers in regional standings for Modifieds, Stock Cars and Hobby Stocks and in national Northern SportMod and Southern SportMod standings all re­ceive a pair of TruCoil springs.
Rookie drivers who obtain a career-first feature win and who complete the required application process receive a $100 gift certificate. More than 160 rookie winners were certificate recipients in 2021.
The 40th annual Super Nationals will be held Sept. 5-10 at Boone Speedway. Steady and often spectacular growth has been a constant at Super Nationals because of Speedway Motors' support, with a record 909 cars in seven divisions competing at Iowa's Action Track last year.
For more information about Speedway Motors visit SpeedwayMotors.com or follow them on social media- Facebook, Instagram and Youtube.
"For 43 years, Speedway Motors has provided IMCA drivers with tremendous support on and off the track," observed IMCA Marketing Integration and Sponsorship Director Carson Becker-Gramm. "The team at Speedway Motors is always willing to help any driver with their needs throughout the racing season. I have enjoyed working with the team, and I am excited to see where we can go in the coming years."