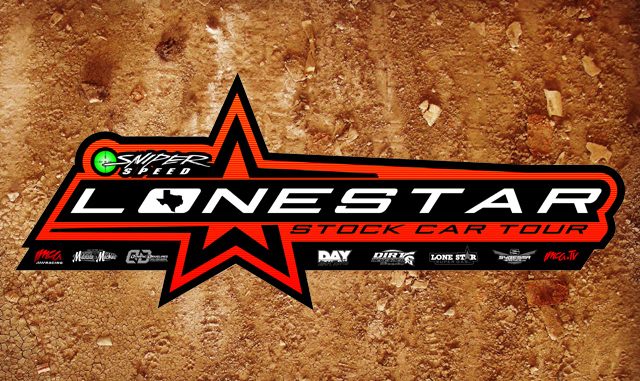 WACO, Texas – Tour officials are pleased to announce upcoming dates for the 2022 Sniper Speed Lone Star Stock Car Tour, which include a new track and new live stream provider. 
IMCA Sunoco Stock Cars will compete nightly for $1,000 top prize money and $100 to start during the six-night tour. 
Each night, pre-registered drivers will also be eligible for contingency awards and a chance at the $5,000 top points championship prize money for the tour. 
In addition, the driver winning both Stock Car main events Feb. 21 at Devil's Bowl Speedway and Feb. 26 at Kennedale Speedway Park earns $10,000. If no driver wins both nights, the driver with the top point total from those two events earns $1,000. 
"We have partnered up with many of the same great tracks again this year," said Tour Director Jon Courchaine, touting the opportunity for drivers to race for big paydays as well as IMCA Speedway Motors Weekly Racing National, EQ Cylinder Heads Southern Region and KMJ Performance Texas State points each night. "We added Devil's Bowl Speedway this year on Monday and feel with the track's location, it will make the travel between races better on the teams." 
The tour will compete at five tracks in six days with IMCA Modifieds and Smiley's Racing Products Southern SportMods racing for $750 to win and a minimum of $75 to start each night starting Sunday, Feb. 20 at Heart O' Texas Speedway in Waco. 
Devil's Bowl in Mesquite hosts the Monday, Feb. 21 show before a travel day and Tuesday practice session at Boyd Raceway. IMCA sponsors the party in the pits that evening and drivers in each division turning the fastest practice lap will be guaranteed provisional starts in features the following evening at Boyd. 
The tour is at Grayson County Speedway in Bells on Thursday, Feb. 24; and concludes with Friday and Saturday, Feb. 25 and 26 events at Kennedale Speedway Park. 
Along with a new track, a new live stream partnership with IMCA.TV has been formed. All six nights of the tour will be broadcast on IMCA.TV and will be available per night or a week-long subscription package. 
Registration is open now for IMCA Stock Car drivers by visiting http://www.sniperspeedtour.com/ and clicking the Driver Registration tab using MyRacePass. 
Jason Rogers of Selden, Kan., won the drawing for the complimentary tour registration. 
"By completing the online registration, it ensures you are eligible for all the tour prizes and contingencies. This also includes eligibility for the perfect attendance and inaugural Kirk Martin Sportsmanship awards," said Courchaine. "It will also save you in the pocketbook, as drivers not pre-registered by Feb. 14 will have an entry fee of $75 each night." 
For more information on the tour and registration, visit www.sniperspeedtour.com or contact Courchaine at 920 373-3350. 
Winners each night of the tour and both nights of the IMCA.TV Ice Breaker at Abilene Speedway become eligible to qualify for the B & B Racing Chassis All-Star Invitational. 
The Friday, Feb. 18 Stock Car feature at Abilene pays $750 to win while the winner of the Saturday, Feb. 19 Prelude to the Sniper Speed Lone Star Tour main event earns $3,000.