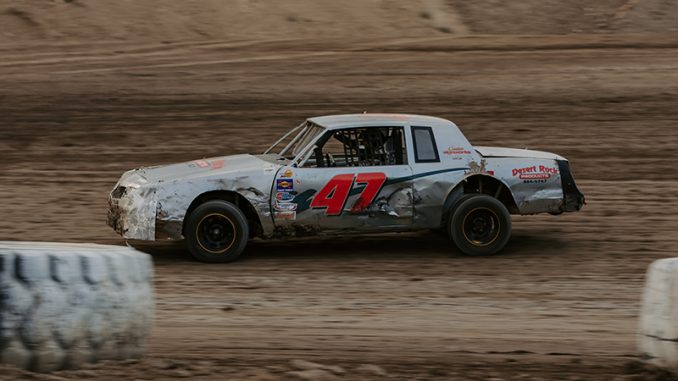 SPANISH FORK, Utah – Just 10 races into the season, Haiden Reese set a different goal for his rookie IMCA Sunoco Hobby Stock campaign. 
That mission accomplished, the Spanish Fork, Utah, speedster already has a new goal for 2022.
Reese became the first driver from Utah to win Big Daddy Race Cars Southern Region rookie honors, logging all 35 of his starts in his home state.
Team Reese also produced a pair of state champions with Haiden topping KMJ Performance State standings for the Hobbies and his father Jason leading the way in Utah points for Modifieds.
"I hadn't raced anything before but my dad has been with IMCA for six years, the last three of them in a Modified, so I've been around it for a while," Reese said. "IMCA has a great rookie program going on and I needed to get into a class where I could learn. I spent November through April building a car and got it race-ready."
"The first time I practiced it was more car than I expected," he added. "I had about 20 practice laps in before my first race and it felt more natural when I was on the track with other cars."
Along with growing confidence, Reese had a couple top five finishes on his resume when he decided to set the bar higher.
"I wanted to win some more races, help my cousin (Jake Jensen) with his rookie year in the Hobby Stock and raise the competition in the area," he explained.
His first IMCA win came on July 17 at Desert Thunder, where Reese would finish second in points.
"I'm going to build a new car over the off-season, a Grumpy Chassis. My goal is to beat Jason Duggins," said Reese, looking ahead to racing with the now three-time Southern Region champion. "He challenges everyone because he's always on his 'A' game."
"My goals are to run with him and beat him, and to help elevate the class in this area."
Starts-35 Wins-1 Additional Top Fives-5
His Crew: Father Jason, grandfather Charlie, cousin Jake Jensen and John Damon.
His Sponsors: Desert Rock Products of Delta; Bros Tire & Automotive of Mount Pleasant; and Geneva Hydraulics Inc. of Orem.