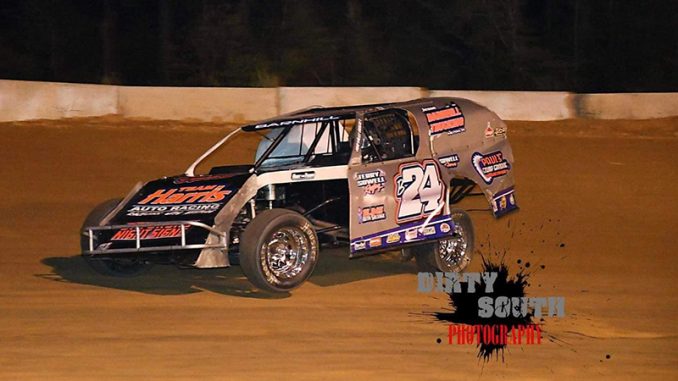 MILTON, Fla. – Owen Barnhill started the season winning in the IMCA Modified his father Jesse drove to a regional championship before he was born. 
He ended it winning rookie of the year honors in the Dirt Works Eastern Region.
"We set the standards pretty high for this season. I never like to finish second," said Barnhill, 16 years old, from Milton, Fla., and now a sophomore at Central High School. "We had about five races left in the season and I wasn't sure if I would be able to win the rookie award. I was worried about getting torn up and messing up in points."
Barnhill didn't mess up much in his rookie campaign, totaling seven feature victories and another 15 top five finishes in just 26 starts. He was track champion at Northwest Florida Speedway and hometown Southern Raceway, as well as the KMJ Performance Florida State champion.
His first three feature wins came in the 2001 Pro Chassis that his dad won the 2004 Gulf Coast Region crown with. That car had sat idle in the shop for six years; Barnhill got in a 2020 Harris ride at mid-season and won four of his last 12 starts.
"The Modified is amazing. You really have got to be on your toes in them," said Barnhill, who continued to enjoy success in a local pure stock class as well. "It felt really good to get my first win in a Modified, and to be able to win the rookie of the year award this season."
Barnhill is the first Florida driver to win the regional rookie award since 2004; his uncle Jason was the top regional rookie in 2001.
Starts-25 Wins-7 Additional Top Fives-15
His Crew: Parents Jesse and Tammy, grandmother Ann Barnhill, Paul and James Mitchem and Danie Hardy.
His Sponsors: Jesse Barnhill Trucking, Hunt The Front, Terry Sowell Roofing, Sowell Farms, Saturday Night Signs, Gulf Coast Dynamics, Triple V Race Cars and Slim's Auto Salvage, all of Milton; and Paul's Stump Grinding LLC of Navarre.