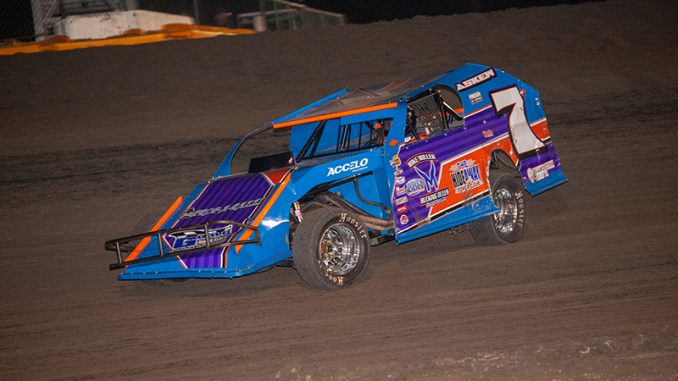 PROSPER, Texas – Thirty-one years after he last wheeled a race car, Steve Askew raced to rookie of the year honors in IMCA's Razor Chassis South Central Region for Modifieds.
The Prosper, Texas, driver, teammate to five-time regional champion William Gould and two-time regional champ Matt Guillaume, made 39 starts at six different tracks, earning his career first feature win in IMCA Modified on Aug. 21 at Grayson County Speedway.
"I knew I had the potential. Everything just fell into place that evening," said Askew, who had posted what was then a career-best finish by running third the night before at Boyd Raceway. "I raced with William almost every night and was more excited that I beat him. He and (Gould's wife) Dana were in victory lane with my wife Michelle and I and we got pictures. It was a cool night, very cool."
Askew had raced late models in Oklahoma, Missouri and Arkansas in 1990-91, earning rookie of the years at home track County Line Speedway.
He stepped away from the sport, always planning to return when the time was right, to devote more time to his family and business.
"I had run kind of a run what ya' brung class so there was a huge adjustment," said Askew, at 52 the oldest driver to win IMCA Modified regional rookie of the year honors since 2004. "It was a huge adjustment. The learning curve was much steeper than I thought it would be but I finally started getting the hang of it.
Partial to Bells – "Me winning there probably had something to do with it" – Askew also listed Boyd and Kennedale Speedway Park among his favorite venues.
"I had several opportunities to drive Stock Cars but wouldn't get back into racing until I could get back in with a new car. I was fortunate to be able to do that now," he said. "IMCA Modifieds are very competitive. They're just a good class to be in. They're as economical as racing can be and you don't get out-motored. The best driver that night wins. It's a fun class to run."
Starts-39 Wins-1 Additional Top Fives-1
His Crew: Wife Michelle, William Gould, Dana Gould, David Gould and Matt Guillaume.
His Sponsors: The Hideaway Poker Club of Carrollton; Brandstorm Creative of Dallas; Proparazzi Photo of McKinney; Gould Chassis of Calera, Okla.; Baker Boys Racing Shocks of Lincoln, Neb.; Mike Miller Bucking Bulls of Jersey Shores, Pa.; and Accelo Racewear of Punxsutawney, Pa.