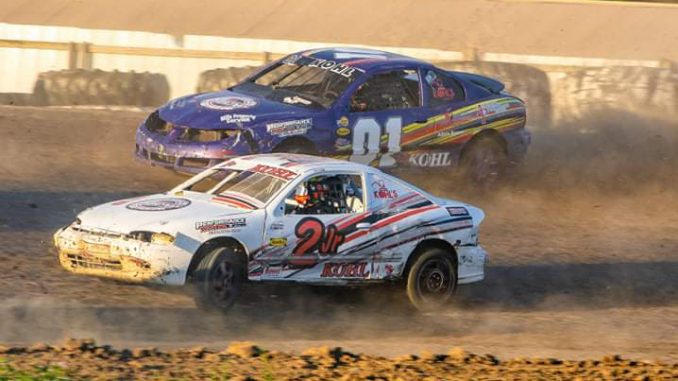 FORT RIPLEY, Minn. – Greg Kohl Jr. didn't need to go into much detail to describe his Mach-1 Sport Compact national rookie of the year season. 
"It was great," the Fort Ripley, Minn., flyer said following a 2021 campaign that saw him win eight features and track championships at North Central Speedway and Princeton Speedway. "Our goal was taking top five's every night. We had three DNFs but after that was all top five's."
He won three of 14 starts at Princeton and another five of 17 at Brainerd, where his checkers included the Ron Johnson Memorial feature and opening night of the Mighty Ax.
"North Central is my home track. I live about eight miles from there and growing up I was always watching races there," said Kohl, a former dirt bike racer. "Princeton is about an hour and a half from home. It's a little bit smaller and there's something about tracks that size that I like."
Fourth in national standings, Kohl ran with younger brother Nathan and cousin Josh Maleski this season and all three drivers earned their share of success on the Minnesota dirt.
Nathan Kohl was second in the standings at North Central and third at Princeton; Maleski was sixth at Princeton and seventh in points at Brainerd.
"We built two cars this year so my expectations were pretty high," said Kohl, who went to his backup ride six weeks into the season because of electrical issues in his primary car. "This is a really fun class. It gets your adrenaline going and it's inexpensive."
It could also be a challenge.
"There were a lot of late nights," Kohl said. "There were some bloody knuckles and some swear words, too."
Starts-31 Wins-8 Additional Top Fives-18
His Crew: Father Greg Kohl Sr., brother Nathan and cousin Josh Maleski.
His Sponsors: Kohl's Concepts, Fletcher Trucking and Performance Heating & Cooling, all of Brainerd; Ken's Auto and America Pressure North, both of Fort Ripley; and Nelson Concrete of Pillager.