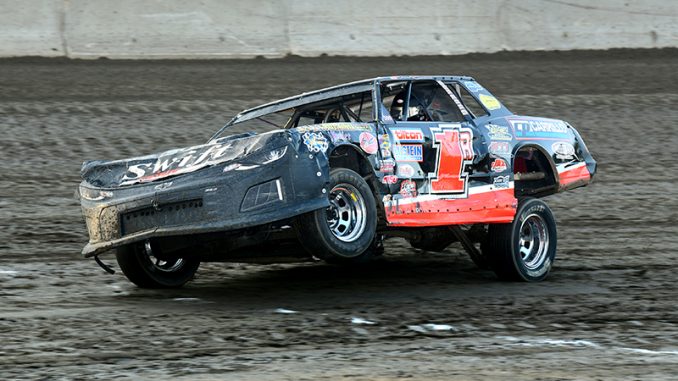 LINCOLN, Neb.  – His finish in what was billed as a mechanics' race was all it took to prove to Cade Richards that he had the tools to drive an IMCA Sunoco Stock Car.
Richards won 14 times in his first season in the Class Too Tough To Tame, earning an unprecedented bounty of awards that included national runner-up and rookie of the year honors, as well as EQ Cylinder Heads Northern region rookie, Eagle Raceway and Beatrice Speedway track and KMJ Performance Nebraska State championships.
"Finishing second in national points really stands out. I never figured we'd be able to do that in a homebuilt car," said Richards, 17 years old and a junior at Lincoln East High School. "So many things had to go right just for us to win the two track championships. Winning the first Stock Car championship was pretty big for me."
Richards parked his Karl Kustoms Northern SportMod in late spring to focus on the Stock Car. Top rookie in the Northern SportMods in 2019, he's now the sixth driver to win multiple ROY awards, the youngest and the first from Nebraska to do so.
"I had won what they called a mechanics' race in a Stock Car a couple years ago. It was fun, so we decided to build one. I didn't think it would turn out this good," said Richards, just the second Stock Car driver in two decades to score national rookie and runner-up honors the same season. "Both classes are a lot of fun but you have to drive them differently."
"Dad and I did a lot of research. "I benefit and grow so much because of dads experience of racing so many different classes and the knowledge he has of it all," he continued. "We took it seriously because we knew we had to be on top of things and got help from Bob Harris on shocks. We have notes and videos, and we did a lot of maintenance on the car. I wouldn't have dreamed of this season being this good if we hadn't."
He won opening night shows at both Salina Speedway and Eagle. Richards totaled five checkers at Eagle, four at U.S. 30 Speedway, three at Beatrice and one each at Salina and Boone County Raceway.
"We haven't made any plans for next year yet but we hope to build on this season," said Richards, joined by father Matt in a couple late-season starts. "Maybe we'll race for another rookie of the year."
Starts-47 Wins-14 Additional Top Fives-26
His Crew: Parents Matt and Jessica, grandfather Jim Sylvester, Tony Orender, Randy Husak and Peter Kosmos.
His Sponsors: Richards Machine, McLaughlin Masonry College View Auto Sales, Kosmos Racing and Cliff Thingstad Trucking, all of Lincoln; Pro Cut Tires of Roca; Jet Racing and Extreme Wraps, both of Beatrice; Filley Powder Coating of Filley; J & K Trucking of Aurora, Colo.; Bob Harris Enterprises and Race Tech Info, both of Ames, Iowa; Dynamic Drivelines of Des Moines, Iowa; Wehrs Machine and Racing Products of Bangor, Wis.; JAZ Products of Santa Clara, Calif.; Swift Springs of Chino Hills, Calif.; CP Carillo Bullet Series Pistons of Irvine, Calif.; Tilton Engineering of Buellton, Calif.; Scat Crankshafts of Redondo Beach, Calif.; Dirt Defender of Waxahachie, Texas; Jones Racing Products of Ottsville, Pa.; and Qualcast of Nashville, Tenn.