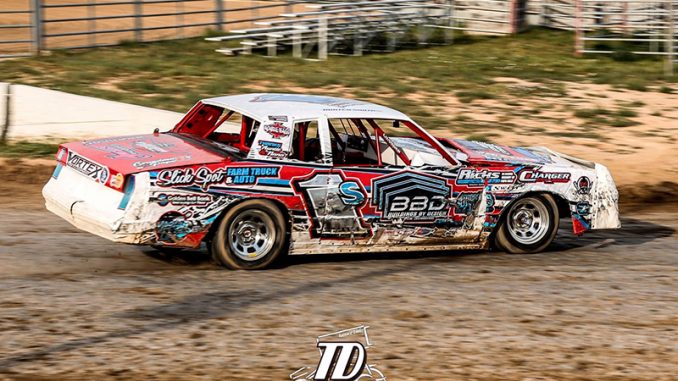 BRUSH, Colo. – A season full of firsts saw Hunter Smith race to national IMCA Sunoco Hobby Stock and Big Daddy Race Cars Northern Region rookie of the year honors.
The 14-year-old Brush High School freshman became the first Colorado driver to win either award. He's the second 14-year-old to earn the national prize and the youngest to win in the ROY in the Northern Region.
"Hobby Stocks are a good class to get started in. I wanted to be in a full-sized car in case I wanted to move up," he said. "Our goal at the start of the season was regional rookie of the year and we just kept pushing. We dropped out of the national lead but got it back, and we were really excited when points became official. It was really cool to be the first from Colorado to do it, and I was surprised to be the youngest to win the regional rookie."
Smith did a lot of winning as a rookie, starting with 10 feature victories. His 51 starts on the season took him to 10 different tracks in Colorado, Kansas and Nebraska.
He was track champion at I-76 Speedway and El Paso County Raceway while topping Colorado Alliance Tour and KMJ Performance Colorado State point standings as well.
"El Paso is about three hours away from home and more of a bullring. I-76 is about 10 minutes away and has less banking," Smith said. "I really liked racing at both tracks but winning two track championships was tough."
"Getting my first win (on May 8 at El Paso) and winning national rookie of the year would be the highlights of my season," added Smith, who won five of his last 12 and three of his final four starts. "I got more confident with my car and went from there."
He brought that confidence to Boone Speedway and the IMCA Speedway Motors Super Nationals fueled by Casey's, becoming the first Colorado driver to qualify for the Stephenville Starter Race of Champions.
"That was a race I had watched on television. Getting to Boone and racing there was great," Smith said. "Getting to race with the best of the best was super fun."
Starts-51 Wins-10 Additional Top Fives-22
His Crew: Parents Zach and Cassandra, grandfather Rich, brothers Huston and Haxton, and Bronson Brannon.
His Sponsors: Jet Black Rider Inc., Buildings By Design, Morrow's Portable Welding, Western Engineering and Consultants, Big Dawg and Sons Weather Spotting, DJ Banks/Money Bags, Grandma Angie and Papa Rich, Grandma Anita- Brush and Aunt Kayla, all of Brush; KH Suspension and Danny Concelman and Moon Racing, both of Colorado Springs; Slick Spot Farm and Auto, Morgan Lanes, Golden Belt Bank, Vortex Tools and Jesse Taylor and Sinner Chassis, all of Fort Morgan; BST Promotions of Broomfield; the Brannon Family of Wiggins; Grandma Sue of Hoisington Kan.; Charger Chassis of Rising City, Neb.; Rick's Customs of Boyden, Iowa; Grandma Connie and Grandpa Ronnie of Mesa, Ariz.; and Klein Engines of Phoenix Ariz.