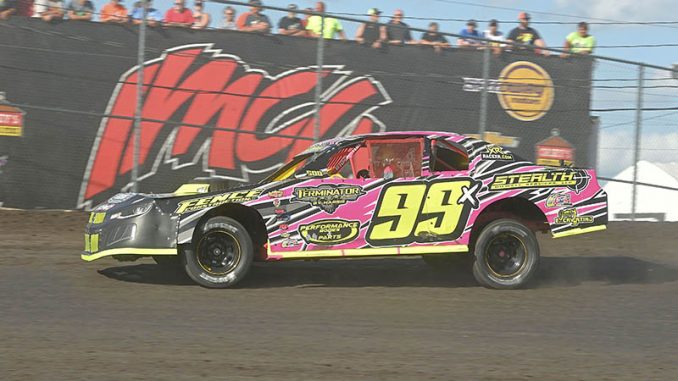 CHELSEA, Iowa – Dallon Murty will add another championship to his IMCA resume.
The 16-year-old from Chelsea, Iowa, won 30 IMCA Sunoco Stock Car features, topping point standings for the nearly 500 drivers ages 13-18 who competed in IMCA this season on the way to earning Junior National Champion honors.
"It means a lot to be to be able to win Junior National Champion," the BGM High School junior said. "We had fallen just short and finished second last year. To win it on our second try is pretty good. I think the Junior National Championship is a great thing for drivers getting into the sport."
"At the start of the season, we weren't focusing on points. We wanted to run as many big events as we could but at one point we took the lead in both national and Junior National points and we changed our focus," he added. "National points didn't work out but the Junior National Championship did."
Murty was at the top of his game at IMCA's biggest event, becoming the youngest champion in IMCA Speedway Motors Super Nationals fueled by Casey's history in September. He and dad Damon also become the first father-son duo in the event's 39-year history to win Super Nationals crowns in the same division.
"We had won the Prelude the Saturday before and after winning our qualifier on Wednesday, we could see the stars lining up," Murty said. "Winning Super Nationals was really special. It was awesome that my family and so many other people who helped get me where I am were there that night."
IMCA's rookie of the year and a five-time feature winner in 2019, Murty tripled that win total in 2020.
He was a force to be reckoned with anywhere and everywhere from the first green flag of 2021, winning twice in topping Frostbuster point standings in April and putting final touches on his first KMJ Performance Iowa State crown with six straight wins to end the season.
His home state wins included nine at Benton County Speedway, eight at Marshalltown Speedway, seven at Stuart Speedway, three at CJ Speedway and two at Boone Speedway.
Rich checkers also came at Stuart Speedway's $5,000 to win Whole Hog 50 and the $10,000 to win Land of 10,000 Lakes 10K finale at Minnesota's Granite City Motor Park.
"We spend a lot of time getting prepared for the big events. Something about them gets us rolling," Murty said. "We raced during the day at Granite City after getting torn up the night before. To be able to win that was a fairy tale. We put a lot of work in, it all paid off and it was my biggest payday."
Also a qualifier for the Modified main event at Super Nationals, Murty won his first feature and $2,000 in that division at Marshalltown's World Nationals.
While he'll race both divisions next season, he'll focus more on the Modified, piloting a 2022 Harris.
"We've made so much improvement every year we've raced. I never thought we'd do as well as we did this season," said Murty, fifth in national and EQ Cylinder Heads Northern Region points this season. "It's nice to be able to sit back now and look back at all we accomplished."
All top 10 drivers in the Junior National Champion standings receive $500 scholarships to be applied toward their post-high school education.
Starts-58 Wins-30 Additional Top Fives-22
HIS CREW: Parents Damon and Dawn, sister Dayna, Jonah Dearden, Mort Frahm, Bud Maschmann, Brad Graham, Kyle Parizek and the Knutsens.
HIS SPONSORS: Fence Construction LLC of Chelsea; Graff Excavating, Toledo; Van Tomme Concrete of Grinnell; Harris Auto Racing and Motorsports Warehouse, both of Boone; Front Street Tap of Brooklyn; Fisher Trucking of Marshalltown; Performance Bodies of Cedar Falls; Northland Oil of Waterloo; Shawn's Hay Grinding of Keystone; Fast Shafts, Midstate Machine, Hess Power Fabs, Ace Signs and Graphics and Curt Manatt, all of Des Moines; RaceXR of Silver Bay, Minn.; Dirt Defender of Waxahachie, Texas; and Stealth Oilwell Services of Odessa, Texas.