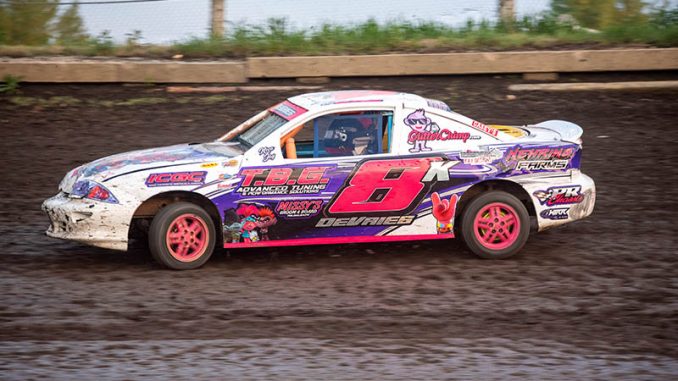 SPENCER, Iowa – Kaytee DeVries will make room in her trophy case for an award she originally hadn't planned to chase. 
The winningest female driver in IMCA history raced to her career fourth, and second consecutive Lady Eagle award, topping point standings for the 273 female drivers who competed in the nine sanctioned divisions in 2021.
From Spencer, Iowa, DeVries won 17 Mach-1 Sport Compact starts and complemented her latest Lady Eagle prize with track championships at Buena Vista Raceway, Kossuth County Speedway and Worthington Speedway.
"We wanted to focus more on track championships and weren't planning to run for Lady Eagle at the start of the season. We were doing really good at the start of the year and our goals were to top last year's wins (19) and not destroy the car," said DeVries.
"It turned out to be a long season and my husband Jay spent more time working on my car than he did racing his Hobby Stock and with the luck I was having," she continued, "I didn't think I'd be in the running for the Lady Eagle."
Her 62 starts came at 10 different tracks in Iowa, Minnesota and South Dakota. Boosted by seven wins in eight June starts, DeVries led the national points race before ending the season in seventh.
"There were a lot of highlights to the season. We traveled to a lot of different tracks and brought home another six-foot trophy, this one from the Kossuth County Fair race," DeVries said. "The competition gets better every year but we were still able to win three track championships for the first time."
"It took a lot of consistency and determination throughout the season," she noted. "We won most of our races at Kossuth County and Worthington (six times and four times, respectively). I got really lucky in Alta. It was a real back and forth battle with Caine Mahlberg."
Now a veteran of nine Sport Compact campaigns, DeVries is tied for fourth on the all-time wins list for the Sport Compact division with 76 checkers, just three less than her husband collected from 2013-2019.
"It's pretty cool to be tied for fourth," she said. "We haven't thought about racing for another Lady Eagle or getting to 100 wins. I don't need to get ahead of myself and I don't need to get that in my head. We're going to take one race at a time."
Her first races of 2022 will be at Cocopah Speedway, when DeVries ventures to Arizona for the season-opening Winter Nationals in January.
Starts-62        Wins-17        Additional Top Fives-32
Her Crew: Husband Jay and daughter Nova.
Her Sponsors: Black Earth Java, Perez Roofing, Randy Wise Construction and Lisa Nicole Photography, all of Spencer; Nehring Farms of Storm Lake; TBG Tuning of Mason City; and Glitter Chimp of Willis, Texas.