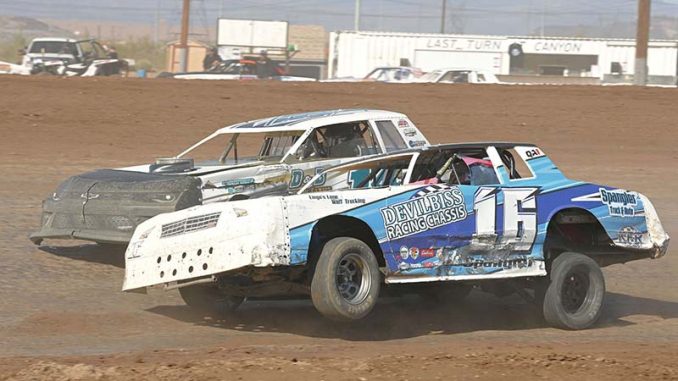 DOVE CREEK, Colo. – Early season races in Arizona laid the foundation for Aaron Spangler's regional championship run.
His success at tracks closer to home cemented it.
Spangler, from Dove Creek, won 19 IMCA Sunoco Stock Car features in four states to become the first Colorado driver to win the EQ Cylinder Heads Southern Region crown.
Three of those wins were complemented by a dozen top five finishes in 21 starts at Grand Canyon State venues. Spangler then won another 16 times in 38 home state, New Mexico and Utah starts.
"We were fortunate this year in that we got to spend a lot of the winter racing in Arizona. I was learning and trying some different things the first half of the season and got faster the second half," he said. ""We're right in the four corners (geographically) and can go in all directions to race in Colorado, Utah and New Mexico."
Sixth in national standings, Spangler topped Fairgrounds Speedway point standings. His seven wins at Cortez this season included the $1,600 Ute Mountain Shootout checkers in June.
Spangler also won six features at Aztec Speedway, where he finished second in points, and one at Desert Thunder Raceway.
The veteran driver is now one of just four IMCA drivers to win regional championships in both Modified and Stock Car divisions. His Modified regional titles came in 1998, 1999 and 2002 as Spangler earned 143 career wins in the open wheeled class.
"Stock Car numbers were growing out here, it looked like a fun class and it was affordable, so that's what we decided we wanted to start racing," said Spangler, joined on the road and/or shop by wife and Mach-1 Sport Compact driver Stephanie, son and Modified driver Brody and son and Karl Kustoms Northern SportMod driver Camron. "We get to spend a lot of family time together in the shop, on the road or at the track."
Along with the first-ever Stock Car regional championship this year came a first-ever trip to Boone Speedway and the IMCA Speedway Motors Super Nationals fueled by Casey's.
"We didn't run that well at Boone. It took me all week to get good," he said. "But as far as going to Super Nationals, it's the most amazing thing ever. I had a really good time there."
Starts-57 Wins-19 Additional Top Fives-22
His Crew: Wife Stephanie and son Camron.
His Sponsors: Cortez Cabs of Cortez; Ruff Construction of Grand Junction; and DeVilbiss Racing Chassis of Farmington, N.M.