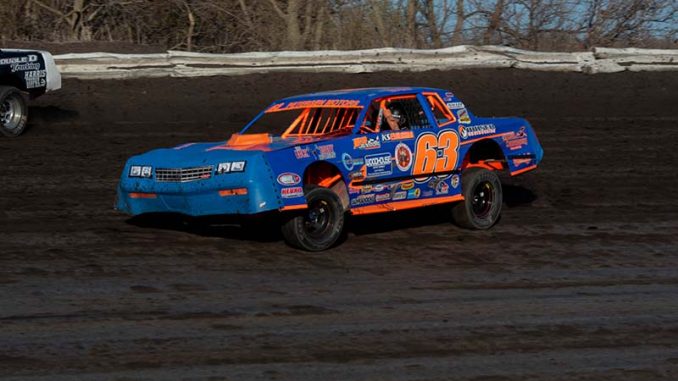 HARLAN, Iowa – An achievement that stands out in Mike Nichols' latest IMCA Sunoco Stock Car national championship season isn't one he'll be getting a trophy or plaque for, but it's one that he's most proud of.
Nichols became the first driver in IMCA's modern era with 10 national titles while adding 22 feature victories and two track championships to his all-time IMCA best totals in both categories.
"One thing that makes me smile is that in today's age of chasing specials, we supported four weekly tracks that are loyal to IMCA and had perfect attendance at three of them this season," said Nichols, who ran a Thursday through Sunday gauntlet at U.S. 30 Speedway, Crawford County Speedway, Shelby County Speedway and Dawson County Raceway. "We raced every weekend through our work schedule and still had perfect attendance at three tracks. That's becoming more rare."
"I'm old school and I've been at this longer than almost everybody else," added Nichols, now a 20-year veteran of the division. "If a special comes up and it's convenient to go do, we'll do it, but I'm of the philosophy you support weekly racing first."
Along with a career 10th EQ Cylinder Heads Northern Region title, he earned track championships at Crawford County Speedway for the eighth straight year, and at Dawson County Raceway for the 11th time in 13 years.
Nichols won six times at both Crawford County and Shelby County, getting another four wins at Dawson County and three at U.S. 30.
While his longest winning streak of the season was four, Nichols finished outside the top five just once in 30 starts through July 4, and just twice after that date.
"This season, compared to previous years, was more of a struggle for various reasons. I can't lay a finger on any one thing," he said. "There were things we wanted to go differently – the competition in this division keeps getting better and we had a lot more seconds this year than in previous seasons – but in the end the results were the same and overall we were good enough for the points deal to work out."
Nichols now has 583 career feature wins and 44 track championships. He'd also earned national and regional titles in 2002, 2004, 2007, 2010, 2014, 2016-2018 and last year.
"There are very few of my generation left," said Nichols, who made a handful of starts in a Karl Kustoms Northern SportMod again in 2021. "We've made it more about supporting local IMCA tracks the last few years and that's what we're going to do again next season."
Starts-54 Wins-22 Additional Top Fives-29
His Crew: Wife Anita, crew chiefs Justin Gessert and Paul Zimmerman, Mike Diercks, Wendall Cross, Casey Farrens, Phil Moyer, Josh Nielsen, Brian Dotzler, Sterling Sorensen, Braxton Gaul, Chris Gaul and Shane Ransom. Honorary Pit Crew are Stan Nichols, Steve Nichols, Mark Dolan, James Buwalda, Jason Nielsen and Charlie Summers.
His Sponsors: A&M Polishing, Behrens Trucking, Mi Casa Family Restaurant, Petersen Motors, The Rust Family/Rusty Iron and The Lounge, all of Harlan; The Buck Snort of Harlan and Denison; Gaul Farms of Earling; Advanced Communication Services of Manilla; Dragonfly Acres of Portsmouth; What's Your Sign? Graphics of Avoca; Dynamic Drivelines of Des Moines; Minkler Auctioneering of Algona; The Twisted Tail of Beebeetown; Woodhouse Auto Family of Missouri Valley; The Twisted Tail of Beebeetown; B & B Racing Chassis of Belle Plaine, Minn.; Kevko Oil Pans of Fairmont, Minn.; KS Engineering of Albert Lea, Minn.; Imperial Manufacturing Racing of Beaver Crossing, Neb.; SSS Motorsports of Springfield, Neb.; FX Suspension of Phillips, Neb.; Bassett Racing Wheel of Burlington, Wis.; Champion Racing Oil of Clinton, Mo.; Multi-Fire by Money of Penokee, Kan.; Western Carriers of WaKeeney, Kan.; Comp Cams and FAST Fuel Air Spark Technology, both of Memphis, Tenn; QuickCar Racing Products of Lebanon, Tenn.; Noonan Industries; Moser Engineering of Portland, Ind.; Schoenfeld Headers of Van Buren, Ark.; CP Carillo of Irvine, Calif.; Swift Springs of Chino Hills, Calif.; and Wilwood Disc Brakes of Camarillo, Calif.