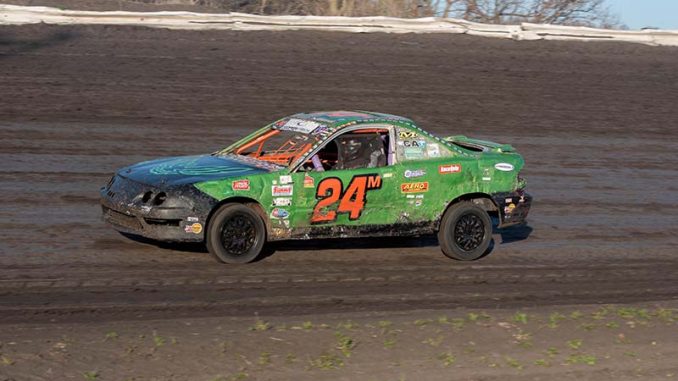 DUNLAP, Iowa – An on-track career that started in a mechanics' race has taken Caine Mahlberg to an IMCA national championship.
The 13-year veteran from Dunlap, Iowa, raced to 17 feature wins and track titles at Shelby County Speedway and Crawford County Speedway in earning the 2021 Mach-1 Sport Compact national crown.
"It still hasn't sunk in yet. I've finished second but never even had a track championship before," said Mahlberg, now sixth on the all-time wins list for 4-cylinder division with 73 career victories. "I know it's been a long time since an Iowa driver won the national championship (the only other Iowan was Jena Barthelmes, in 2007) because every other year it was somebody from Minnesota or Nebraska, so it means a lot for me to be able to do it."
Mahlberg crewed for brothers Shannon and David before getting behind the wheel himself.
"They used to race two man cruisers at Harlan and I used to work on their car all the time," he explained. "Shannon started racing 4-cylinders and I drove in a mechanic's race and got third. I started racing my own car after that."
Mahlberg ran a stable of three cars this season, taking over Shannon's ride for much of the year and always having at least one back-up ride.
He won seven straight features between May 28 and June 11. Mahlberg collected 10 wins at Crawford County, three at Buena Vista Raceway, two at Shelby County and one each at Park Jefferson Speedway and The New Raceway Park.
"I had six or seven wins in a row in 2011. This was just another good year, I guess," he said. "After we started winning, Shannon kept me posted on where we were in the standings and we started racing for points at more tracks."
A quick trip home to get a back-up car after getting into the wall at Denison allowed Mahlberg to salvage a second-place finish at Crawford County. He was also runner-up to Katie DeVries in a tight points race at Alta.
"There are quite a few good drivers we raced with regularly and Kaytee is one of them," he said of the now four-time Lady Eagle award winner, also a 17-time feature winner this season. "I've got to give her props. She's a good driver and she's tough to beat."
Mahlberg's 48 regular season starts took him to eight different tracks and Shelby County Speedway, where he got his racing start, remains a sentimental favorite.
"I like Harlan the best. It's a big track and I like to run the top," he said. "It's my home track and where I've done best over the years."
Another track where he'd like to do the best is Boone Speedway, home of the IMCA Speedway Motors Super Nationals fueled by Casey's, where Mahlberg has qualified for the Tuesday night main event three times.
"I'd like to win Boone," he stated. "That would be an accomplishment. Everyone wants to win Super Nationals."
Starts-48 Wins-17 Additional Top Fives-23
His Crew: Brother Shannon and Tamie Johnson.
His Sponsors: Jerry's Oil Alley, T & C Wheel Polishing, First Street Repair, Mahlberg Drywall and Windy Ridge Farms, all of Dunlap; Lindgren Trucking of Odebolt; and Double D Trucking of Charter Oak.