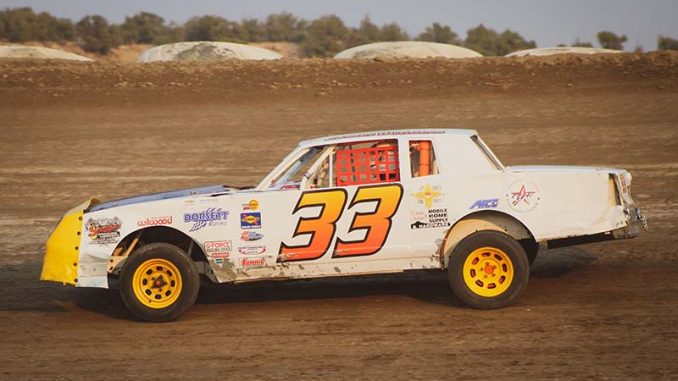 FARMINGTON, N.M. – Jason Duggins drove through the night, then put the final touches on a new car at the track before making his first start of the season in January. 
He put the final touches on a third straight Big Daddy Race Cars Southern Region championship with his 28th and 29th IMCA Sunoco Hobby Stock wins on the season's final weekend in September.
"It was an unbelievable year," said Duggins, from Farmington, N.M. and sixth in national point standings. "You never know when your last win is coming and I cherished every one of them."
The Fairgrounds Speedway track champion made all but one of his 44 starts outside his home state, starting the year at Cocopah Speedway's Winter Nationals and logging some 22,000 miles supporting tracks in Colorado and Utah.
"We built a new car, a Grumpy Chassis, in a month and put the finishing touches on at the track," said Duggins, who debuted that new ride on Jan. 6 at Cocopah. "I put the car in the trailer and drove through the night to get there, then drove from the back to finish second in my heat. I knew right then we had a piece. The car was really easy to drive."
It was fast, too.
"I never drove anything like this car, plus I had good help, great sponsors and only got in one pileup all year," he said. "We went to a crate engine this year. I liked the consistent power and we didn't have any mechanical issues."
Duggins won his first six, and 15 of his first 17 Colorado and Utah outings. He'd win a dozen times at Desert Thunder Raceway and 11 more at Fairgrounds. Four wins at Wild Bill's Raceway and one each at Millard County Raceway and Aztec Speedway also figured in his career best single-season total.
Two of those Desert Thunder checkers came during the season finale Castle Country Clash, an event where success had eluded him both of the last two years.
"We travel with a group to and from Utah. We worked together to get good car counts and I think you'll continue to see this class grow," said Duggins. "It was awesome to win at the Castle Country Clash. We ended the season perfect. We just had a blast."
He's the first Hobby Stock driver to win three straight Southern Region titles. Shannon Anderson accomplished the three straight feat in the Northern Region, from 2008-2010 and again from 2016-2018.
"When I started watching IMCA Hobby Stocks, he was the guy I was watching," said Duggins. "To have accomplished something that Shannon did is pretty good."
Along with a fourth regional crown, he hopes to contend at the IMCA Speedway Motors Super Nationals fueled by Casey's next year.
 Starts-44            Wins-29         Additional Top Fives-7
HIS CREW: Paul Dorsett, sons Kyler and Trevor, girlfriend Jessica Walker, Allen Bradley, Bub Hughes and Larry Rust.
HIS SPONSORS: Dorsett Racing, Grumpy Chassis and Rusty Pin and Pin Racing, all of La Plata; Ryan White and Star Collision, Derek Neil and Schaeffer's Oil and Lubricants, Power by Gosh, San Juan Mobile Home Supply and Hardware and 2 Dukes MAC Tools, all of Farmington; NAPA Auto Parts of Farmington and Bloomfield; WCC Customs of Bloomfield; and KFR Graphics and Wraps and Accurate Engine of Cortez, Colo.