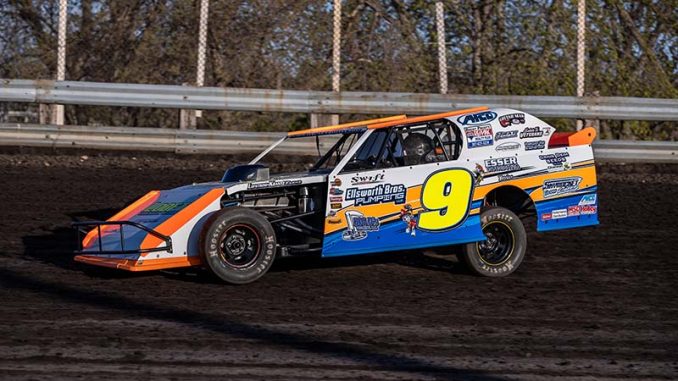 SWEA CITY, Iowa – Matthew Looft wasn't kidding when he said chasing points were not in the plans for 2021. 
Looft and wife Brittney were expecting their third child and as a result, he'd be racing for fun and supporting tracks closest to their rural Swea City, Iowa home.
A single-season career best 27 feature wins later, however, Looft delivered his career fourth and division-best Karl Kustoms Northern SportMod national championship.
"We never thought it would happen. Everything just worked out," said Looft, who watched the Salute to Veterans race at Kossuth County Speedway on the delivery room TV prior to the 1:33 a.m. July 30 arrival of daughter Brynlee. "The whole season was pretty crazy, really. One distinct memory I'll never forget was winning the Salute to Veterans race at Clay County Fair Speedway while my wife was having contractions in victory lane. I suggested she stay home that night, but I didn't win that battle. Brynlee was born a day later."
Starting his first season in a Skyrocket Chassis by B & B, Looft picked up the opening night win at Kossuth County Speedway. Another six trips to victory lane followed before his first-ever checkers at Hancock County Speedway's SportMod Nationals.
"We got used to the car right away. It's really easy to drive and works good on slick tracks," he said. "When you have a car that can go anywhere, it's easier to pass. Kelly Shryock, Jason Briese and Paul Burger have been great to work with. We bounced ideas off each other to make the car better and faster."
"When the car felt off, I'd take it over there and Kelly would go through it," added Looft. "A lot of it was little stuff we'd try, maybe scale the car different or try different springs. It was a team effort."
He was track champion at Arlington Raceway, Murray County Speedway and at Kossuth County Speedway, where he won 12, six and five times, respectively. Looft also won three features at Clay County.
The career-best $2,500 payday at the MaxYield Seeds SportMod Nationals – Brittney drew his outside pole start and was credited with helping in the win – kicked Looft's season into a higher gear. He won 19 of his last 30, and nine of his last 12 starts.
"We really started hitting our stride after Britt. We broke leading a couple nights," he said, "but we had no flats in heats or features and there were quite a few nights we didn't have any cautions and there weren't any wrecks. All those things make a big difference."
First a national champion in 2013, Looft won again in 2014, the year oldest child Brayden was born, and in 2018, when he and Brittney welcomed son Brysen.
"To keep up with (10-time IMCA Sunoco Stock Car national champion) Mike Nichols, we have to have six more kids," Looft said, noting each year a child was born, they've won a national championship.
He'll start the 2022 season with career totals of 194 feature wins and 31 track and special series championships, also division bests.
"We like to support our local tracks and don't do that much traveling," said Looft. "Championships are hard to come by. You have to dedicate yourself to an entire season and we race with some of the best competition in the country."
Starts-51 Wins-27 Additional Top Fives-21
His Crew: Wife Brittney, sons Brayden and Brysen, Greg Sidles, Zach Schleininger, Tyler Schleininger, Nate Sukalski and Roger Schroeder.
His Sponsors: Skyrocket Chassis by B & B and Shryock Racing Components, both of Joice; MB Auto Clinic LLC, Looft Tankwagon Service and Craig Deim Seeds, all of Swea City; Greg Penning & Co. LLC and S & B Farms Distillery, both of Bancroft; RL Ag Sales-Wyffel Hybrids of Armstrong; Ellsworth Brothers Manure Pumping, Mabus Feed Lot and Lofstrom-Krantz Farms, all of Lakota; Big D's Trucking of Estherville; Fast Shafts of Des Moines; Mitchell Machine of Webster City; CPD Racing Shocks of Fort Dodge; S & S Machine of Belle Plaine, Minn.; Grotte Construction of Fairmont, Minn.; Broken Arrows Photography of Alpha, Minn.; Guitar Man of East Chain, Minn.; Moonlite Race Parts of Good Thunder, Minn.; Brent Prouty and REMAX Realty Plus of Redwood Falls, Minn.; Esser Distributing of Blue Earth, Minn.; Snap Graphics of Mapleton, Minn.; Keechinator Photography of LeSeuer, Minn.; AFCO of Boonville, Ind.; Swift Springs of Chino Hills, Calif.; and Engine Quest of Las Vegas, Nev.