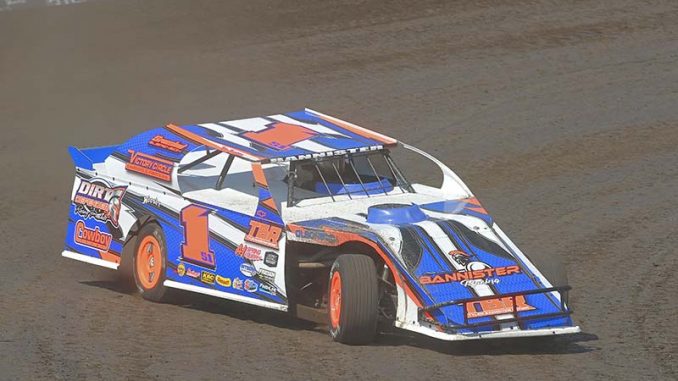 BAKERSFIELD, Calif. – Tyler Bannister started his first Karl Kustoms Northern SportMod season racing with "name" drivers at Cocopah Speedway's Winter Nationals.
He ended the season making a name for himself as the national rookie of the year.
Bannister, 19, won eight features – three of them during California Speedweek – track championships at hometown Bakersfield Speedway and at Merced Speedway, and was seventh in the national points race.
"Rookie of the year was not something we were really running for at the start of the season. We had a lot of ups and downs throughout the year," said Bannister, who contended with Izac Mallicoat and fellow Californian Ryan Peery for the rookie prize. "I knew I had to not stress out and just do as well as I could every night. I think my parents and my crew were more worried than I was."
Bannister raced with his father Jason in most of his 38 starts, joining him in the Northern SportMod division after running bandolero and legends cars on asphalt and a local hobby stock class on dirt.
"I ran a couple times in my dad's car before I raced at Cocopah and did better than I expected," said Bannister, who mixed it up with the likes of IMCA Speedway Motors Super Nationals fueled by Casey's champion-to-be Austen Becerra and heavy hitters from across the West Coast while in Arizona. "I don't think we did too bad there. It was a dream to race with those fast guys."
Bannister raced with and beat the fast guys for the first time at Merced's Jerry Shannon Memorial on March 27, then won his next start at Bakersfield.
"That was a good race at Merced. That was special considering all the other guys who were there that day," he said. "Any day you can beat Fred Ryland is a good day."
His Speedweek wins came at Antioch Speedway, Petaluma Speedway and Silver Dollar Speedway.
"I didn't qualify in the opener at Bakersfield so I didn't start Speedweek very well," he said. "But I really stepped up as a driver after that. To be the only driver to win three times was special.
Bannister topped a weekly show at Ocean Speedway before getting his last two checkers of the season at Bakersfield.
"Our family made the trip to Boone for Super Nationals and it was awesome," Bannister said. "Being there and experiencing it all was another dream come true for me. I wish I could have done better but I can't wait to go back."
Starts-38 Wins-8 Additional Top Fives-19
His Crew: Parents Jason and Amy, Austin Hunt, Cody and Kayson Hanley, Tristan Meier, Cody Johnson and grandparents GoGo and Papa.
His Sponsors: A1 Springs & Supply, Cowboy Gears, Victory Circle Race Cars and Sivesind Suspension, all of Bakersfield; Olson's Racing Engines of Hanford; and Dirt Defender of Red Oak, Texas.