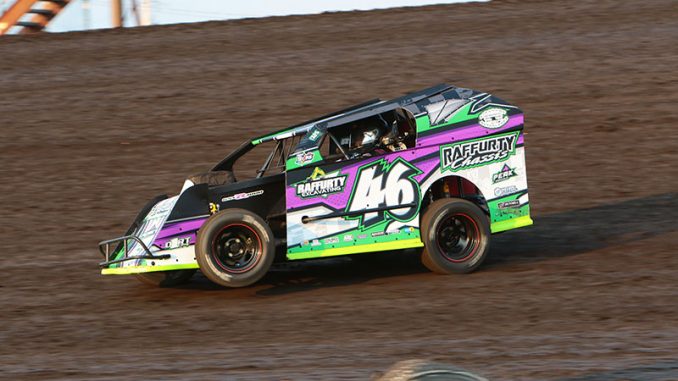 KANSAS CITY, Mo. – Dillon Raffurty saw the potential for himself and for the division when IMCA sanctioning of the STARS Mod Lites was announced late last year.
He quickly lived up to that potential, winning 28 times and becoming the first national champion crowned in the division.
"You can't ask much more than to win the national championship," said the Kansas City, Mo., star, who drove a homebuilt car most of the season and incredibly finished outside the top five just once in 37 starts. "It's always cool to win points, especially when you do it in a car you built. That makes it even more special."
"I knew I would like the IMCA point structure and being able to race anywhere in the country for points," added Raffurty, the winner at eight different tracks in four states and KMJ Performance Missouri State champ. "We had a lot of fun going to different places and racing against a lot of different drivers."
He was an 11-time winner and champion at home track Valley Speedway, half an hour or so from home.
Raffurty collected another half dozen checkers at Marshalltown Speedway, three each at Lakeside Speedway and 81 Speedway, two at Salina Speedway and one each at Cedar County Raceway, with the Mod Lites of Arkansas and then at Boone Speedway tuning up for the IMCA Speedway Motors Super Nationals fueled by Casey's.
"We had started racing at Valley Speedway in 2010. It doesn't lock down on the bottom and there's always room to pass," he said. "Because of the IMCA sanction, we got to race at some new tracks and won at two of them, Cedar County and Old. No. 1 Speedway with the MLA."
The win at Boone was the ninth in a mid-season streak and came from 12th starting.
That was a preview for more great things to come in September, as Raffurty swept the first-ever race of champions and Super Nationals main event for the Mod Lites.
"It was cool to go to Boone and be part of Super Nationals, and it means a lot to be the first Mod Lite champion," he said. "It was crazy sitting there after I won and the TV camera came right up to me. I've never had anything like that happen to me before."
He ran the same set of Money Tires that he won with at Super Nationals in topping Lakeside's Rage On The River special on the final weekend of the season.
Quick to appreciate contingency awards given at Super Nationals and throughout the season by IMCA sponsors, Raffurty was joined on the track this year by his father David and older brother Mike.
David was seventh nationally, Mike ninth.
"My dad ran Mod Lites when I was growing up and I started racing at 12," said Raffurty, noting with a chuckle his improvement since his first race. "I got lapped three times that night but told myself it wasn't too bad, I'll just have to get better."
Starts-37 Wins-28 Additional Top Fives-8
His Crew: Father David and brother Mike.
His Sponsor: Raffurty Excavating of Kansas City