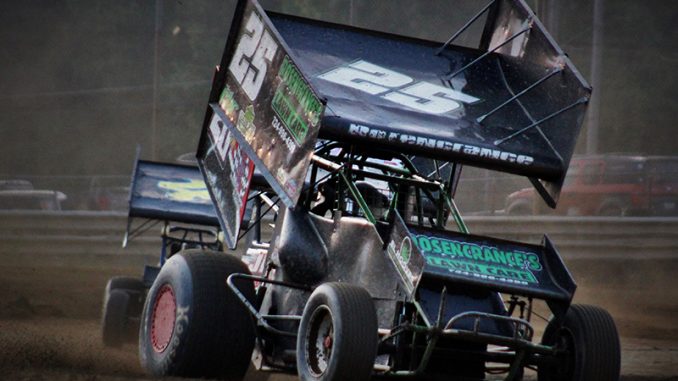 BUTLER, Pa. – Jarrett Rosencrance made a couple late-season starts last fall to get a feel for his IMCA RaceSaver Sprint Car.
Late-season starts this year saw him win his career first feature and national rookie of the year honors in the division.
"I hadn't raced anything before the Sprint Car," said Rosencrance, from Butler, Pa. "Ever since I was little, I always loved Sprint Cars and my dad told me it that if it was something I wanted to do, I should. Two weeks later we bought a car."
David Rosencrance had raced street stocks, hanging up his helmet after his son was born on Christmas Day in 1997. Twenty-four years later, he was part of the crew that helped Jarrett become the first Pennsylvania driver in any division to earn IMCA national rookie honors.
Rosencrance made 23 starts in a 2006 Maxim in his freshman campaign, following the Allegheny Sprint Tour and hitting seven Ohio Thunder Sprint Car Series or Laurel Highlands Sprint Series events, four of which were co-sanctioned with the Allegheny Tour.
"We weren't going after points or anything. We wanted to keep getting a feel for the car and get better every time we hit the track and I'd never experienced anything like the adrenaline rush before," said Rosencrance. "The hardest thing for us was learning setups and how the car wanted to act."
Neighbor, fellow driver and sponsor Carl Bowser was among his mentors, as was eventual Allegheny Sprint Tour champion Stephen Cousins.
Rosencrance won for the first time, in his next to the last start of the season, on Sept. 18 at Michael's Mercer Raceway. He finished second in the tour finale the next week, earning the national rookie of the year award by a single point ahead of Austin Reed and tour runner-up honors to Cousins, also by a single marker.
"Getting our first win felt amazing. All the hard work we put into the car paid off. I was speechless for a while after that," Rosencrance said. "We had developed a good bond with Stephen and it was nice to start on the front row with him in the final event. "There was a real feeling of accomplishment that we were able to finish second in the series in our first year."
Starts-23 Wins-1 Additional Top Fives-9
His Crew: Parents David and Colleen, grandfather Tom Rosencrance and girlfriend Emily Schnell.
His Sponsors: Rosencrance's Lawn Care, B.L. Hoover Lawn and Property and Carl Bowser Racing, all of Butler; and Glade Mill Trailer Storage of Valencia.