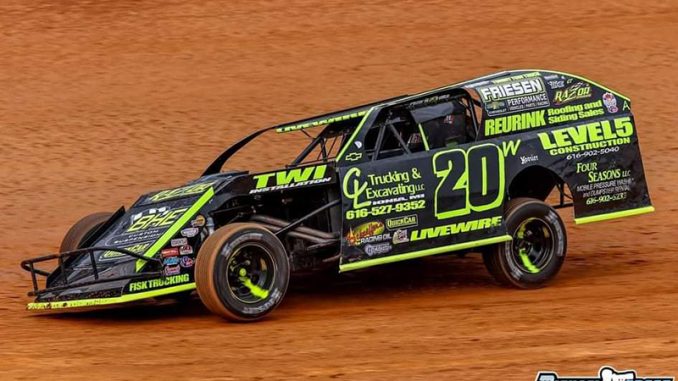 IONIA, Mich. – The start of his season had A.J. Ward wondering if he'd even be racing for points in 2021.
The end saw him winning a career fourth Dirt Works Eastern Region championship and finishing as runner-up in the national IMCA Modified standings for the second time in four years.
From Ionia, Mich., Ward battled early April engine issues before righting the ship and winning three straight and seven of his next nine outings before the Memorial Weekend.
"This was our first full season in a Razor Chassis and the April 3 race (at Winston Speedway) was our earliest ever in Michigan," said Ward, who also ventured to Pennsylvania for the first time and won the inaugural NY-Penn Series event, the Sean Lias Memorial at Penn Can Speedway. "We blew two new engines early and had to decide whether or not to chase points."
The decision to get back on the track paid off with 20 feature wins, track championships at I-96 Speedway and Thunderbird Raceway, along with a career fifth KMJ Performance Michigan State title.
"We had a lot of second and third place finishes this year. We moved to Thunderbird on Saturdays this year and were very consistent there," Ward said. "We went into championship night at I-96 with a one point lead and the track title and bonus points on the line. It was pretty much must-win that night and pulling off that win was probably the highlight of the year. It was a $700 to win regular night but we secured another $4,000 in national runner-up money and contingencies."
Ward's home state wins included eight at I-96, six at Thunderbird, two at Tri-City Motor Speedway, one at Winston and a pair in the fledgling Eastern IMCA Allstars Series.
"I hope that series takes off," said Ward, hoping for big things as well in the second annual NY-Penn Series. "We're planning to hit points hard again next year and hope the races in New York and Pennsylvania are on Sundays or midweek."
Ward now has 139 career wins in the division and two goals for 2022: Eclipsing Rick Stout's Michigan-leading 150 wins and moving up one more notch in the national standings.
"I want to race with IMCA as long as I can," he said. "I like the prestige, and there's that one little thing that has eluded me twice now."
Starts-47 Wins-20 Additional Top Fives-16
His Crew: Father Frank, son Kraton, Ryan Bennett, Tony Williams, Josh Miller, Tiffany Miller, Spencer Flint and Hilaree Fraly.
His Sponsors: Level 5 Construction, Darin Elliott with Green Ridge Realty, CL Trucking and Excavating, Smokey Mountain Tobacco, Ionia Race Car Swap Meet, the Bennett family, the Miller family, Reurink Roofing & Siding and Tommy Tow Truck, all of Ionia; TWI Racing and S and M Video, both of Stanton; White's RV Rental of Fenwick; BSM Lawn Care of Belding; Brinn Inc. of Bay City; Bob Harris Enterprises of Ames, Iowa; Fast Shafts of Des Moines, Iowa; Wehrs Machine and Racing Products of Bangor, Wis.; Razor Chassis by Roth of Platte Center, Neb.; Close Racing Supply of Eldred, Pa; and Bob Morgan and Schaeffer's Oil & Lubricants, Bellevue.