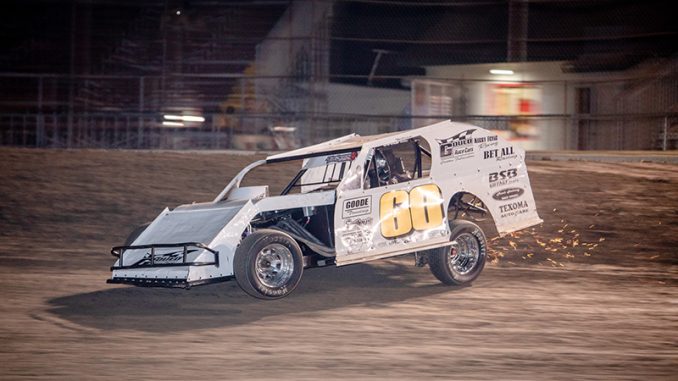 CALERA, Okla. – After getting back behind the wheel of an IMCA Modified he'd last driven five years ago, William Gould raced to a career fifth championship in the Razor Chassis South Central Region.
Gould added 15 feature win stickers to the collection that came already on the roof of that old ride while earning Grayson County Speedway track and KMJ Performance Texas State titles.
"Starting in late February, I drove an older chassis I had built owned by Dino Rendon," said Gould, from Calera, Okla. "I'd sold it to him in 2016 after getting back from Super Nationals. It still had the old roof with the stickers on it and the same body. I just put my number on it."
"It was like getting reacquainted with an old friend," he said. "Other than the engine and shocks, I don't believe technology has changed as much as some other people do. We'd won the national championship in 2013 in a car we had bought back. Things get more expensive but otherwise I don't see where that much has changed."
Gould began his drive toward the regional crown after winning two All Star Shootout starts, at Boyd Raceway and Heart O' Texas Speedway, in late May.
"We had made it a point to skip nights, not get caught up in points and stick to tracks that were conducive to racing," he explained. "We didn't start racing for points until June."
Seven of his 2021 wins came at Boyd, five at Bells, a pair at HO'T and one at Southern Oklahoma Speedway. The All-Star victory at Waco came from deep in the field and ranked among Gould's season highlights.
"You're only as good as your last win," said Gould, now 14th on the all-time list with 164 IMCA Modified career victories. "When I get in the car before a race, I don't think about the money, I think about winning. Money is what keeps the young guns coming back. The thrill of winning is what makes us put the hours in at the shop."
The latest addition to his trophy collection joins regional championship hardware from 2013, 2014, 2017 and 2019.
"We have a den dedicated to racing and it will go on display there," Gould said. "The den is really an extension of the shop. It's just cleaner and cooler."
Starts-39 Wins-15 Additional Top Fives-13
HIS CREW: Wife Dana and son David.
HIS SPONSORS: Gould Race Cars and Innovative Traction Solutions, both of Calera; D&R Construction, Caney; Bob's Machine Shop, Hulbert; Champs Graphics and T's of Elk City; Dino Rendon and Texoma Auto Care of Denison, Texas; Guillaume Motorsports of Haslet, Texas; Jerry Frydrych and Bet All Racing, Waco, Texas; Goode Towing of Killeen, Texas; Kerry Fryar and Triple A Cutting Edge of Abilene, Texas; Levi Ely's Pit Stop BBQ of Merkel, Texas; Smiley's Racing Products of Mesquite, Texas; Dirt Defender of Waxahachie, Texas; Mark Herring Race Engines, Plainview, Texas; Adams Automotive of Van Alstyne, Texas; Jerry's Bit Service, Decatur, Texas; Hanjack Farms; John and Nikki Webb; BSB Manufacturing of Wellington, Kan.; Baker Boys Racing Shocks of Lincoln, Neb.; and Pat Fagen and Fast Shafts of Des Moines, Iowa.