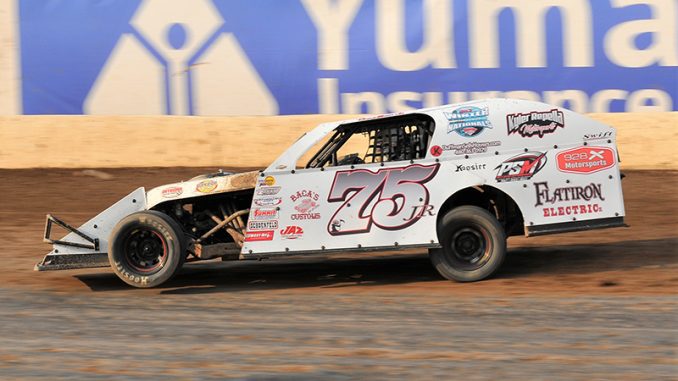 MESA, Ariz. – A detour to the Midwest helped Chaz Baca defend his Shaw Race Cars Western Region championship.
The Mesa, Ariz., driver won a single season career-best 22 IMCA Modified features, all but one of them in his home region. His 2021 title haul also included another Cocopah Speedway crown plus his first Pitt Stop Motorsports Wild West Tour and fourth KMJ Performance Arizona State championships.
Baca's 10 wins at Cocopah started with an IMCA.TV Winter Nationals show in January and ended with a sweep of Mike Corning Memorial features on the final weekend of the point season.
"I think the regional championship was harder to win last year. We were going pretty good at the beginning of this year and in the second half of the season we were able to kick it up a notch and win the regional championship again," he said.
"This was our first year in a Lethal Chassis and we struggled a bit with what it liked," explained Baca. "We took a detour to the Midwest. I threw myself in, raced at more tracks for the first time and hoped for the best. I learned a lot about setups and that helped me back home as well."
He made a dozen starts at 11 different tracks in Iowa, Minnesota, Nebraska and North Dakota, winning the July 2 show at McLean County Speedway.
"I really liked Shelby County Speedway. It's big and it's fast," Baca said. "My favorite track I raced at in the Midwest was Red River Valley Speedway. I didn't do that well (he finished 12th) but it's a nice facility and the track was fast."
Returning home, Baca won five straight features, two of them at California's Barona Speedway, before wrapping up the Wild West Tour crown with third- and fifth-place finishes at Desert Thunder Raceway.
"When we got back we were on a roll. This is the first year we ran the Wild West Tour full-time and racing at most of those tracks as well," he said. "It was cool to be able to pull that off."
Baca now has 71 wins in his IMCA Modified career.
"We definitely had a great year. To improve our win total is a big deal, especially in a different chassis," he said. "It shows we're going in the right direction."
Starts-63 Wins-22 Additional Top Fives-18
His Crew: Father Chaz Sr., uncle Dennis Baca and Spencer Chilton.
His Sponsors: Flat Iron Electric and Trail Transmission, both of Apache Junction; Kyler Repella Motorsports of Phoenix; Baca's Customs, Duffman Sells Houses, Moff's Mods and Rods and Prattster Graphics, all of Mesa; Cocopah Speedway; 928X Motorsports and Yuma Insurance, both of Yuma; WSS Shocks of Queen Creek; Schaeffer's Lubricants of Chandler; Superior Fuel Cells of Creswell, Ore.; Lethal Chassis of Mooresville, N.C.; Swift Springs of Chino Hills, Calif.; and Pitt Stop Motorsports of Rock Springs, Wy.