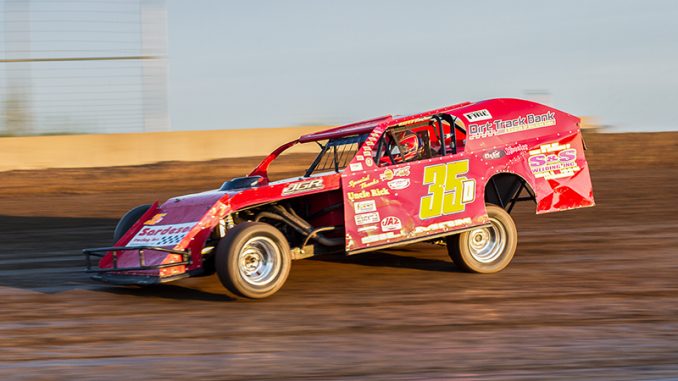 ALVO, Neb. – Third generation Modified driver Dylan Sillman raced his way into one of IMCA's most exclusive clubs in 2021. 
The 18-year-old from Alvo, Neb., became just the fourth driver in division history to win both regional championship and regional rookie of the year honors the same season, and the first to do so in the Jet Racing Central Region.
An 11-time feature winner, Sillman earned track championships at US 30 Speedway and Junction Motor Speedway as well.
"We had gotten a win late in the season last year but going into this season we never thought this success would happen. We never expected the track championships, regional championship or regional rookie award at all," said Sillman, a May graduate of Murdock High School. "Everyone kept their head on straight, stayed focused and took the good with the bad, and we ended up having a good season."
Both his father Jeremiah and grandfather Jeff had raced and won in the sanctioned division during their own careers.
"They told me how much they'd loved it and we decided it was time for me to move up from the mini sprints," said Sillman, who became a regular Thursdays at U.S. 30 and Saturday nights at McCool Junction.
Eight of his wins came at Junction, including the Barb Nunnenkamp Memorial finale, a pair at Crawford County Speedway in Iowa and one at Columbus.
"Junction Motor Speedway is about an hour and a half from home. It's pretty racy and I took to it pretty quick. Dad had some success there when he was racing too," Sillman said. "U.S. 30 is really consistent and one of the tougher tracks to race at. I really enjoyed it."
"I really liked the level of competition and the challenge in the Modified division," he added. "Some people think you get in the car and it's easy. To compete with the drivers around here and be able to get wins and track championships is really cool."
Jesse Sobbing, now of Malvern, Iowa, had been the most recent driver to win both the regional championship and rookie award in the same season, in 2013 in the North Central.
Starts-29 Wins-11 Additional Top Fives-12
His Crew: Parents Jeremiah and Katie, brother Logan and grandparents Jeff and Dorene Sillman.
His Sponsors: S and S Welding Inc. and Sardeson Racing, both of Greenwood; Corn Growers State Bank of Murdock; and Dirt Track Bank of Malvern, Iowa.