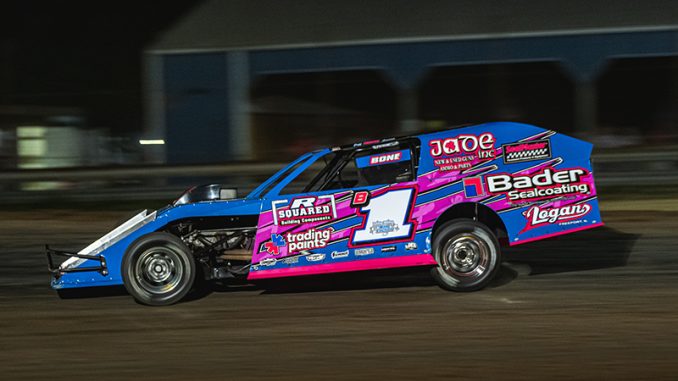 FREEPORT, Ill. – Talk about another run at the IMCA Modified national championship began shortly after Jeff Larson finished second in the 2020 points race.
Those conversations became more frequent when he won his first five home region starts of 2021.
Larson did all his talking on the track from that point, winning a division-best 35 features in all, along with three track titles and Side Biter Chassis North Central Region and national crowns.
"We had a good year, for sure," said the modest Larson, from Freeport, the first Illinois driver to win the IMCA Modified national crown since 1987 and the first from the Land of Lincoln to win an IMCA regional title in any division. "We worked hard all week and raced hard on the weekend all season long. It was a big deal when we got the official call from IMCA."
In his fourth season driving for boss and family friend P.J. Kostenbader, Larson ventured to Arizona's Cocopah Speedway for seven Winter Nationals starts in January.
His first checkers of the season came in the April 4 Frostbuster at Benton County Speedway. Four more wins followed in quick succession and Team Larson got to thinking this could be their year.
"We had talked about it before because we got second last year. We weren't for sure until we started winning all those races in our own region about a month in," Larson explained. "The car (a 2021 Rage) was great and everything just fell into place right away."
A 16-time winner before the end of June, Larson took over the top spot in national standings in early July, then won eight straight and 13 of his next 14 starts.
"When you're running that good and starting in the fifth or sixth row a lot of nights, it's tough. There are so many good drivers in this division," Larson said. "We did have some luck this season. There were some nights when we were just in the right place at the right time."
"Our restarts were good and our redraws were good also."
Larson had begun making his Modified bones at the age of 15 at Freeport, driving a car owned by his father Bob.
One of eight IMCA drivers racing to three track titles this season, he paced points at East Moline Speedway, 300 Raceway and Maquoketa Speedway while finishing second at Lafayette County Speedway.
Larson won 10 times at Lafayette County – his final victory of 2021 came there at the memorial race in honor of his father – with another nine wins at East Moline and eight at Maquoketa.
He also had three wins at Dubuque Fairgrounds Speedway, two at 300 Raceway and one each at Cedar County Raceway, Independence Motor Speedway and Vinton.
"I'm partial to Darlington because that's really where I learned how to drive," Larson said. "East Moline and Maquoketa are similar and I run the same setup at both tracks."
"Boone is always fun," Larson continued. "Super Nationals can be a long week but we got it done on the last day and made the main event."
The two division star will be balancing more time as a spectator with time spent on the track in 2022.
"We've come a long way from where we started," said Larson, who owns 81 feature victories in his seven sanctioned seasons and also won five of nine IMCA Sunoco Stock Car starts, all of them at Maquoketa, this year. "We won't be chasing points next year because we'll be following our kids' sports, but we'll run some specials and an IMCA Sunoco Late Model, too, when we can."
Larson is the fourth driver from Illinois to win the IMCA Modified national championship, and the first since Shane Davis in 1987.
Starts-62 Wins-35 Additional Top Fives-16
His Crew: Shawn Kubatzke and Joel Plum
His Sponsors: Bader Construction, Bader Seal Coating, Randy's Electric, Schofield Plumbing, R Squared Construction, Mowery Auto Parts, ABC Supply, BK Concrete, Logan's Bar & Grill, J.H. Barkau and Sons, Phil's Place and Out-Pace Racing Products, all of Freeport; Jade Inc. of Cedarville; Sealmaster of Rockford; Trading Paint of Monroe, Wis.; and Precision Performance of Oxford, Iowa.