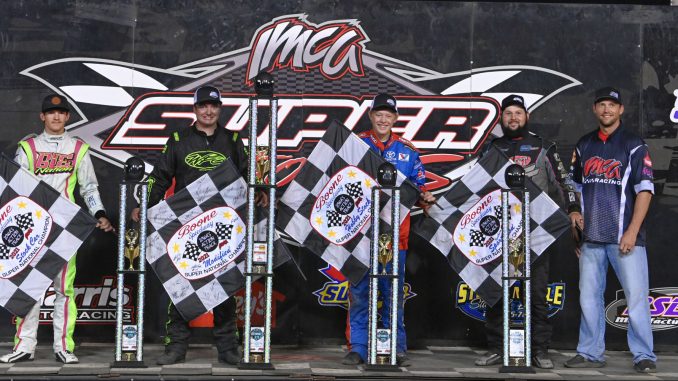 BOONE, Iowa (Sept. 11) – Young drivers made their mark with first-time championships on the final night of a record setting IMCA Speedway Motors Super Nationals fueled by Casey's Saturday at Boone Speedway.
A record 909 cars competed at the 39th annual event, which included with a touching remembrance of the lives lost and the lives impacted by the terrorist attacks 20 years ago to the day. Another record was set by the entries from 27 states and Canada.
Cody Laney led all 40 laps of the $7,000 to win IMCA Modified main event in front of a very full grandstand as drivers with West Coast roots took home three of the top four spots. Tim Ward was second, Justin O'Brien third and Zane DeVilbiss fourth.
"This is the biggest win there is. I got to see Ethan (Dotson) do it a couple years ago. For me to do it is incredible," said Laney, 26. "We were off in qualifying (for the race of champions) but when we hot lapped tonight I knew we were back to where we were supposed to be."
Dallon Murty became the youngest driver to win a title at Super Nationals, as the 16 year, eight month-old BGM High School junior outran California speedster Dylan Thornton and a couple hotshoes from closer to home in Devin Smith and Derek Green for the $5,000 Stock Car payday.
"I'm speechless," Murty admitted, after an emotional post-race hug from his father Damon, the 2018 Stock Car champion. "This win means so much to me, to my entire family."
Austen Becerra, the most veteran of the championship group at 27, took charge following a lap 10 restart and led the last 20 laps in winning the Northern SportMod main and $3,000. The pole position was left empty for Ryan Gillmore, who did not start the race after the death overnight of his father.
"I've been coming here, first to watch, since 2008. To be able to win this race is unreal," Becerra said.
Brayton Carter, Dylan VanWyk and Alec Fett completed the top four.
And 17-year-old Mike Smith continued his family's Super Nationals legacy, leading the last 10 circuits in the Hobby Stock feature.
"I looked ahead of me and knew it was time to go," the South Central Calhoun High School driver said after taking his foes to class in the $2,000 to win event.
Jeff Ware, 2020 champion Nathan Ballard and 2019 champ Dylan Nelson completed the top four.
Todd Shute was the Harris Auto Racing Race of Champions for Modifieds winner and Kelly Shryock repeated in the Sunoco Race Fuels Race of Champions for Stock Cars. Tony Olson topped the BSB Manufacturing Race of Champions for SportMods and Zach Olmstead won the Stephenville Starter Race of Champions for Hobby Stocks.
First-time Super Nationals champions crowned earlier in the week were Dillon Raffurty in the STARS Mod Lites, Justin Kay in the Late Models and Mitch Bielenberg in the Sport Compacts.