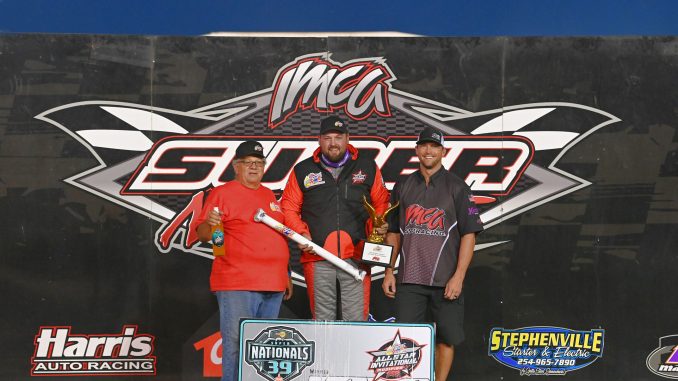 BOONE, Iowa (Sept. 3) – Kyle Brown didn't lead the most laps, just the most important ones. 
Brown drove past Nick Roberts following the second of two late restarts, then led the last two times around the Boone Speedway oval in winning Friday's Fast Shafts Modified All-Star Invitational at the IMCA Speedway Motors Super Nationals fueled by Casey's.
"It was neat before to get to elected by fans but I like the new time trial format because it puts qualifying for the race into our hands," Brown said. "We timed here a couple weeks ago and were terrible. We finished like sixth out of eight so we went to work on the car, and that showed tonight."
The win paid $1,050. Brown had been elected to the last five All-Star fields but made it in via the second round of time trials this time around.
Dakota Sproul had led through midway of the 30-lapper before pulling in and giving the point to pole starter Roberts. Brown was in contention with Dylan Thornton close behind before those late yellows.
Anticipating when Harris Auto Racing customer Roberts was going to do on the second restart, Brown charged by and took the win, his All-Star career first.
Roberts, Dylan Thornton, Kollin Hibdon and Clay Money completed the top five.
"This win is the tops," Brown said. "I had won the Hogan (Memorial, at Benton County Speedway in 2017) but this is the biggest now. Everybody wants to win this race.
More than 80 of the drivers eligible to qualify, having won events paying $1,000 or more, state or regional champions, time trialed on Thursday. Ten states were represented in toe 30-car main event field.
Todd Shute collected the $500 IMCA.TV hard charger bonus, racing from 28th starting to 12th. Jake McBirnie was a plus 15, Tim Ward a plus 14 and Hibdon a plus 12.
Feature results – 1. Kyle Brown, Madrid; 2. Nick Roberts, Des Moines; 3. Dylan Thornton, Santa Maria, Calif.; 4. Kollin Hibdon, Pahrump, Nev.; 5. Clay Money, Penokee, Kan.; 6. John Campos, Keizer, Ore.; 7. Nick Meyer, Whittemore; 8. Chris Abelson, Sioux City; 9. Jeff Larson, Freeport, Ill.; 10. Zane DeVilbiss, Farmington, N.M.; 11. Tim Ward, Harcourt; 12. Todd Shute, Norwalk; 13. Jeremy Mills, Clear Lake; 14. Jake McBirnie, Boone; 15. A.J. Ward, Ionia, Mich.; 16. Jared Baird, Norman, Okla.; 17. Troy Morris III, Bakersfield, Calif.; 18. Mitchell Hunt, Kent City, Mich.; 19. William Gould, Calera, Okla.; 20. Matt Guillaume, Haslet, Texas; 21. Steven Bowers Jr., Topeka, Kan.; 22. Riley Simmons, Susanville, Calif.; 23. Bobby Hogge IV, Salinas, Calif.; 24. Joel Rust, Grundy Center; 25. Ethan Dotson, Bakersfield, Calif.; 26. Jerry Flippo, Bakersfield, Calif.; 27. Cody Thompson, Sioux City; 28. Dakota Sproul, Hays, Kan.; 29. Ryan McDaniel, Olivehurst, Calif.; 30. Tom Berry Jr., Des Moines.