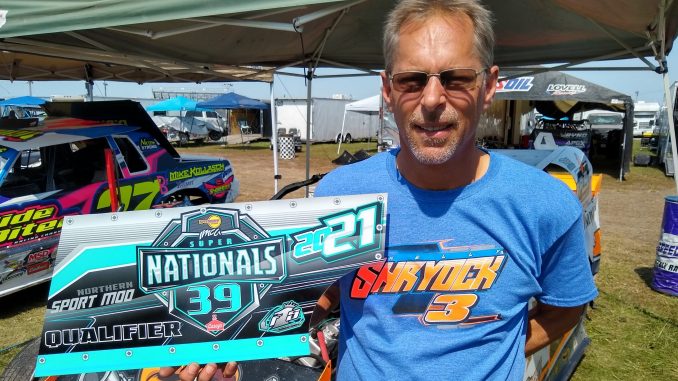 BOONE, Iowa – Twenty years ago, Jim Horejsi was starting the Stock Car main event at the IMCA Speedway Motors Super Nationals fueled by Casey's.
This Saturday night, he'll be back on track at Boone Speedway for the Northern SportMod Big Dance.
Eighth in the 2001 Stock Car main event, he put his name on the 2021 SportMod grid with his fifth place finish in Wednesday's last chance race.
"Non-racing people don't know what a big thing it is to make Super Nationals," Horejsi said. "We posted on Facebook that we might be starting in the back but there are 140-plus drivers loading up who wished they had our position."
"When you are one of 30 drivers in the main event, it's something to be proud of."
From Marshall, Minn., Horejsi has run a Modified, Stock Car and Northern SportMod over the course of his IMCA career, winning six track championships since 1994.
That's the same year he went to Cars Limited owner Bob Larsen inquiring about sponsorship; Larsen jumped on board and backed Horejsi for the next 21 years before selling him the business.
Horejsi supports the sport himself, as his Cars Unlimited now provides the pace car for Murray County Speedway, where he won a track title driving for car owner Freddy Widboom.
"I don't know if I should be embarrassed that the last time I made the main event at Super Nationals was 20 years ago. I'm older now of course and racing with a lot of kids, and they have a lot of talent" said Horejsi, who took time away from the sport to get and grow his own business. "Racing has changed so much, the cars, how you set them up and the kids you race against, but as long a I can keep winning once in a while and having fun, I'm going to keep doing it."