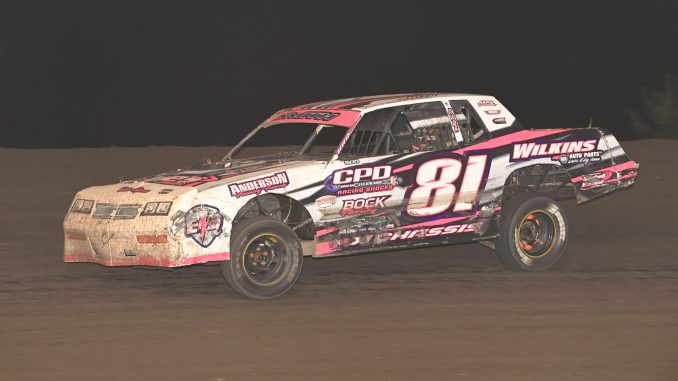 BOONE, Iowa ( Sept. 8)– Typically impressive runs to the front put Devin Smith and Dallon Murty on the podium as Stock Car qualifying got underway Wednesday night at Boone Speedway.
An IMCA Speedway Motors Super Nationals fueled by Casey's division record 221 cars saw action and Smith, the 2014 and 2019 champion, raced from eighth starting to the lead just three circuits into the first 25-lapper.
Troy Jerovetz caught Zane DeVilbiss for second following a restart with four laps to go and Brock Badger drove into the top four on the final time around the track.
The already much-accomplished Murty started 12th, went to the top side of the track to pass Jake McBirnie after midway and then prevailed in a green, white, checkered finish to the second qualifier.
Stock Car newcomer McBirnie, Dusty Van Horn and Kelly Shryock ran 2-4. The top four from both qualifiers advance to the inside row of Saturday's Big Dance.
McBirnie and Shryock later qualified for the Modified main event.
Smith starts his sixth Stock Car dance, Jerovetz his third, Shryock his second and DeVilbiss, Badger, Murty, McBirnie and Van Horn each their first. DeVilbiss also became the first New Mexico driver to race his way into the Super Nationals Stock Car main event.1st Stock Car qualifier – 1. Devin Smith, Lake City; 2. Troy Jerovetz, Iowa Falls; 3. Zane DeVilbiss, Farmington, N.M.; 4. Brock Badger, Bagley; 5. Derek Green, Granada, Minn.; 6. Dylan Thornton, Santa Maria, Calif.; 7. Damon Murty, Chelsea; 8. Cody Center, Mesa, Ariz.; 9. John Oliver Jr., Danville; 10. Tanner Pettitt, Norfolk, Neb.; 11. Brian Cesar, Sheboygan, Wis.; 12. Les Lundquist, Sioux City; 13. Austin Brauner, Platte Center, Neb.; 14. Aaron Karcz, Pulaski, Wis.; 15. Clint Forstner, Shiocton, Wis.; 16. Joel Rust, Grundy Center; 17. Reid Keller, Webster City; 18. Rod Richards, Madrid; 19. Travis Barker, Sioux City; 20. Chad Hertel, Buffalo Gap, Texas; 21. Chad Palmer, Renwick; 22. Ryan Bjerkeset, St. Peter, Minn.; 23. Roger Jenniges, Echo, Minn.; 24. Dusty Loberger, Oconto, Wis.; 25. Brandon Czarapata, Pulaski, Wis.; 26. Andrew Fidler, Elwell, Mich.; 27. Wayne Landheer, Thompson; 28. Andrew Inman, Mason City; 29. Todd Reitzler, Grinnell; 30. Shane Stutzman, Milford, Neb. 2nd Stock Car qualifier – 1. Dallon Murty, Chelsea; 2. Jake McBirnie, Boone; 3. Dusty Van Horn, Atlantic; 4. Kelly Shryock, Fertile; 5. Chanse Hollatz, Clear Lake; 6. Randy Brands, Boyden; 7. Anthony Hofbauer, Huxley; 8. Devin Snellenberger, Pulaski, Wis.; 9. Johnathon Logue, Logansport; 10. Johnny Spaw, Cedar Rapids; 11. Aaron Johnson, Brainerd, Minn.; 12. Tyler Pickett, Boxholm; 13. David Smith, Lake City; 14. Jeffrey Larson, Lakefield, Minn.; 15. William Gould, Calera, Okla.; 16. Mitch Meier, Chilton, Wis.; 17. Mike Stapleton, Denison; 18. Chad Louk, Jefferson; 19. Chris Toot, Albert Lea, Minn.; 20. Dillion Lawrence, Salt Lake City, Utah; 21. Jason Ward, Sioux City; 22. Michael Jaennette, Kellogg; 23. McCain Jennings, Algona; 24. Paul Wenzlaff, Yankton, S.D.; 25. Troy Swearingen, Thompson; 26. Donavon Smith, Lake City; 27. Tom Cannon, West Branch; 28. Jesse Sobbing, Malvern; 29. Justin Luinenburg, Reading, Minn.; 30. Chester Kaufman, Jamesport, Mo.