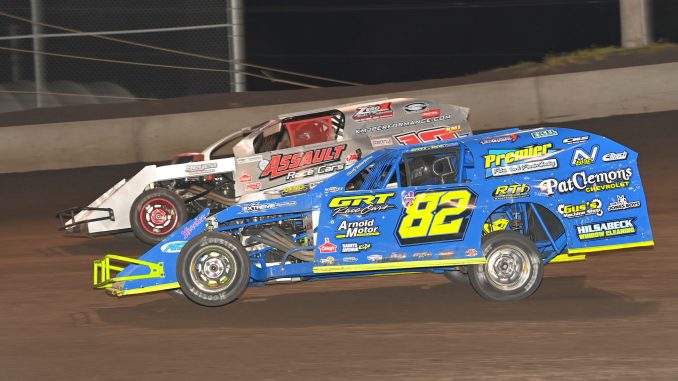 BOONE, Iowa (Sept. 8) – Last year's runner-up Cody Laney will get a chance to run for the 2021 Modified crown while Jake McBirnie chases potential second and third championships at the 39th annual IMCA Speedway Motors Super Nationals fueled by Casey's.
Laney was joined by fellow Californians Dylan Thornton and Jerry Flippo in running 1-2-3 in Wednesday's first qualifying feature for Modifieds at Boone Speedway while Minnesota's Jacob Dahle rounded out the four drivers advancing to the inside row of Saturday's main event.
2018 Northern SportMod champ McBirnie had qualified for the Stock Car Dance earlier in the evening and put a second car in the Saturday show by winning the final Modified qualifier of the evening.
A pair of Saturday night main event veterans ran second and third as 15-time qualifier Kelly Shryock and 16-time qualifier Troy Cordes chased McBirnie to the checkers. Lucas Lamberies was fourth in the race for inside row one starting spots Saturday. Jeff Aikey turned down his top four finish to attempt to qualify for a better a better starting position on Thursday.
Laney starts his career sixth straight Modified main event at Boone. McBirnie and Lamberies are in for the second time, Thornton, Flippo and Dahle each for the first.
A dozen different states were represented in the two Wednesday qualifying fields. 1st Modified qualifying feature – 1. Cody Laney, Torrance, Calif.; 2. Dylan Thornton, Santa Maria, Calif.; 3. Jerry Flippo, Bakersfield, Calif.; 4. Jacob Dahle, Morristown, Minn; ; 5. Dallon Murty, Chelsea; 6. Nick Meyer, Whittemore; 7. Kollin Hibdon, Pahrump, Nev.; 8. Bobby Hogge IV, Salinas, Calif.; 9. D.J. Shannon, Merced, Calif.; 10. Randy Havlik, Ankeny; 11. Jared Siefert, Luxemburg, Wis.; 12. Jordy Nelson, Marysville, Kan.; 13. Mitchell Hunt, Kent City, Mich.; 14. Drew Janssen, Pella; 15. Terry Hurt, Omaha, Neb.; 16. Tim Ward, Harcourt; 17. Shane DeMey, Denison; 18. Darrell Hughes II, Manteca, Calif.; 19. Bill Roberts Jr., Burlington; 20. Jeff Taylor, Cave City, Ark.; 21. Justin O'Brien, West Union; 22. Joel Rust, Grundy Center; 23. Hunter Parsons, Green Bay, Wis.; 24. Jon Snyder, Ames; 25. Bob Moore, Sioux City; 26. Josh Ruby, Lakota; 27. Scott Olson, Blairsburg; 28. Ethan Braaksma, Newton; 29. Russ Dickerson, Boone; 30. Ronnie Burkhardt, Topeka, Kan. 2nd Modified qualifying feature – 1. Jake McBirnie, Boone; 2. Kelly Shryock, Fertile; 3. Troy Cordes, Dunkerton; 4. Lucas Lamberies, Clintonville, Wis.; 5. Jeremy Mills, Clear Lake; 6. Todd Shute, Norwalk; 7. Cody Thompson, Sioux City; 8. Dakota Sproul, Hays, Kan.; 9. Anthony Hofbauer, Huxley; 10. Jake Pike, Pahrump, Nev,; 11. Anthony Roth, Columbus, Neb.; 12. Troy Morris III, Bakersfield, Calif.; 13. Cory Sauerman, Johnston; 14. Matthew Meinecke, Jamaica; 15. Tim Watt, Beloit, Kan.; 16. A.J. Ward, Ionia, Mich.; 17. Jay Noteboom, Hinton; 18. Ronn Lauritzen, LaPorte City; 19. Chad Porter, Madison Lake; 20. Cody Knecht, Whittemore; 21. Jim Thies, Mapleton; 22. Chris Simmel, Valley View, Texas; 23. Keaton Atkinson, Hot Springs, Ark.; 24. Tom Berry Jr., Des Moines; 25. Jimmy Gustin, Marshalltown; 26. Eric Barnes, Colona, Ill.; 27. Brian Pearce, Oakley, Calif.; 28. Milo Veloz, Colona, Ill.; 29. Joel Bushore, Boone; 30. Jeff Aikey, Cedar Falls.