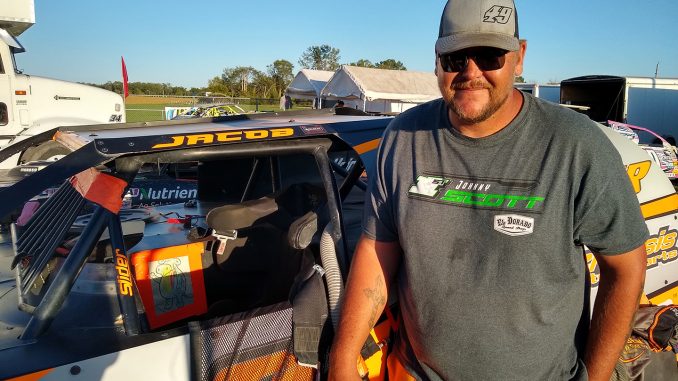 BOONE, Iowa – Jacob Wolsleben hit pause on his pursuit of Jet Racing Central Region championship and rookie honors to run the IMCA Speedway Motor Super Nationals fueled by Casey's. 
The 37-year-old hotshoe from Lexington, Neb., has embarked on the most aggressive season of his career in 2021. A regular at Dawson County Raceway, Lincoln County Raceway and Thomas County Speedway, he has two wins and another 20-plus top four finishes to his credit before the break for Boone.
"I've never raced more than 12 or 15 times a year. We have around 40 starts this season," Wolsleben said. "I want to make a qualifier at Boone. If I could do that it would be a success. If I could make the show it would be huge."
He'd started racing go-karts, then piloted Stock Cars, Hobby Stocks and finally Northern SportMods before getting together with Jeremy Leiting and getting into the Modified.
"I talked with my wife Jane and just decided to get into a Modified," he explained. "We thought it would be cool to see if we could win in all four divisions. We've had a lot of fun this season."
Wolsleben got in four starts and destroyed a car last year. He wasn't paying much attention to points this year before sister Amy Holbein pointed out he was doing pretty well in regional and track standings.
He's missed just a handful of Super Nationals since 1999.
"We race as a family and we have a lot of family that goes. I've wanted to drive one of these (cars) since I was 16 years old. This is where I wanted to be all my life," he said. "My family starts talking about Boone week in July. We always have fun at Super Nationals and see people we only get to see when we're at Boone."